Sac State offers post-election counseling to distraught students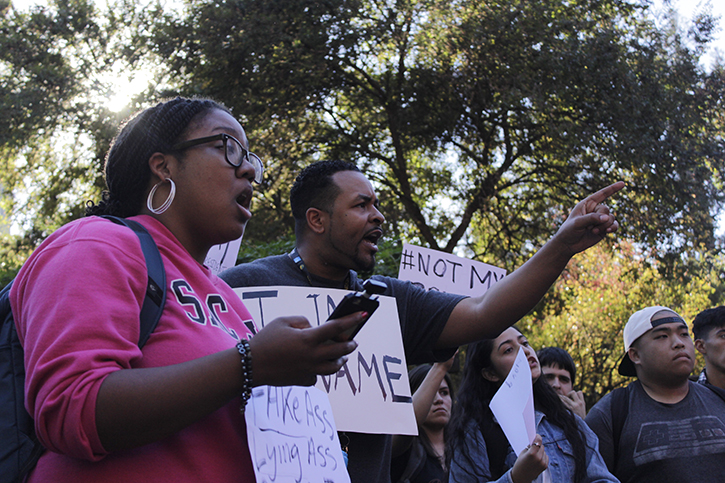 Following the surprise victory of Donald Trump in the U.S. presidential election, the College Assistance Migrant Program (CAMP) hosted a workshop Thursday intended to help students who may be distraught to cope.
Guest speaker Cheryl Samuelson, a counselor for the Student Health and Counseling Services, led the workshop.
"We know the election has left many students feeling confused. That's why we thought it would be good to have an informal and leaned back session to vent those feelings," Samuelson said.  "It's important to have spaces like this to talk. It's important to have community."
The event followed a day of protests at Sac State and college campuses nationwide in response to Trump's unexpected victory.
On Wednesday, Sac State President Robert Nelsen addressed the unrest, advising students to seek out counseling services and directing students to The Red Folder website, which provides links to campus resources and teaches students on how to recognize distress in classmates.
"We must honor each other and stand in solidarity with the members of our community who feel afraid, unsafe or threatened," Nelsen wrote in an email. "While many of us may feel uncertain about what may come, I can assure you that the university will be here to listen and offer support."
(Story continues below)
CAMP, which according to its website is "a federally funded program designed to help students from migrant and seasonal farmer backgrounds succeed at Sacramento State," held the coping session from noon to 2 p.m. inside it's main location in the Riverfront Center.
Vice President of Student Affairs Ed Mills, who attended the event, stressed the importance of coping skills.
"There are lots of feelings of anxiety right now," Mills said. "This session is about processing, not suppressing."
Students were given the opportunity to vent during the event. Many said they felt that hateful behavior directed towards them had been validated by the election.
"I live in a country where I'm told that I don't belong," one student said during the session.
"I'm not the same person that I was before Tuesday," another student said. "I feel like I'm much more mistrusting now."
Associate Director of Admissions Miguel Molina, who was also in attendance at the session, expressed the unique challenges faced by staff members trying to console upset students.
"It's rough as a staff member to provide support. It's like 'How do I do this?' You have to breathe and seek out support," Molina said. "There may be a point where you to have to tell someone that they're not safe, but that shouldn't be (at Sac State)."