Hornets outscored by UC Davis at Golden 1 Center 81-72
During a back-and-forth first half between Sacramento State and UC Davis, Aggies' senior guard Darius Graham buried a buzzer-beating 3-pointer en route to a 81-72 win at Golden 1 Center.
This shot by Graham, which continued a 12-2 run entering halftime, put the UC Davis men's basketball team (4-1) in the driver's seat as the Aggies didn't relinquish its lead (36-34) against Sac State (1-3) for the remainder of the 115th meeting between the Causeway rivals on Monday.
"I knew that we had a couple seconds on the clock after Mikey [Henn] got the rebound," Graham said after finishing with 10 points and four assists in front of 10, 104 spectators. "I was able to get a quick glance at it and quite frankly I run so fast sometimes that I kind of loft it up there and it kind of took off on me. It went in, it was a lucky bank, but we'll take it."
Despite having four players score in double figures and only committing nine total turnovers — compared to 16 for UC Davis — Sac State wasn't able to establish offensive consistency after shooting 37.3 percent (25-67) from the field and 25 percent (7-28) from the 3-point line.
"I think they forced us into taking some shots that we didn't want to," Sac State head coach Brian Katz said after falling to 5-4 all-time against UC Davis. "I think we shot too many threes, I give their defense credit for that. I don't like to lose and then make excuses and say we didn't play well. I think it had a lot to do with how they guarded us — I think they did a great job with that."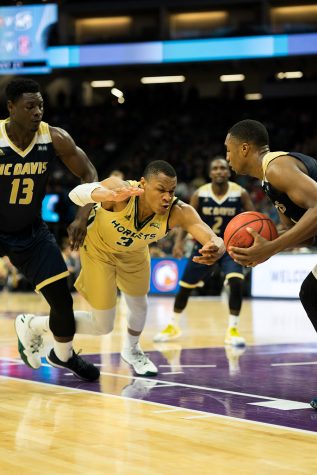 UC Davis excelled offensively after shooting 50 percent from both the field (29-58) and from beyond the arc (8-16), while getting to the free-throw line 18 times for 15 conversions. Despite running a smaller starting five with three guards and two forwards, the Aggies also outrebounded Sac State 40-32.
"We were working on our consistency over 40 minutes, but they show you flashes defensively and offensively of how good they can be and when it came right down to it, they made plays," UC Davis head coach Jim Les said. "I also thought we were able to wear down Sac State who's a very well-coached basketball team. I thought we wore them down and were able to take advantage of that fatigue in the last 10 minutes of the game."
The Hornets eventually fought back into the game after bringing the score to 42-40 early in the second half, but a 15-5 run by UC Davis — ending at the 9:31 mark — prevented Sac State from cutting its deficit to under seven points for the remainder of the game.
"I thought we really competed hard," Katz said. "I thought we did some really good things in terms of defending their on balls. They're a very good on ball team, pick-and-roll team, pick-and-pop team. They're a very hard team, they have great scheme, they come at you in multiple ways."
The Aggies accomplished this offensive onslaught with a starting lineup that consists of junior forward Chima Moneke and four seniors — Graham, forward J.T. Adenrele, guard Lawrence White and guard Brynton Lemar — which combined for over 70 percent of the total points production against Sac State. Lemar led both teams with a career-high 23 points (7-13 FG, 6-7 FT), six rebounds and five assists, followed by 15 points, 13 rebounds and three blocks from Moneke.
"Well, I know they have a lot of senior leadership, they have a lot of experienced guys so it definitely goes a long way," Sac State junior forward Justin Strings said after finishing with 12 points and 10 rebounds. "When you have guys who have been starting for their team for two-three years now, it definitely helps so I think that's definitely a key to their roster."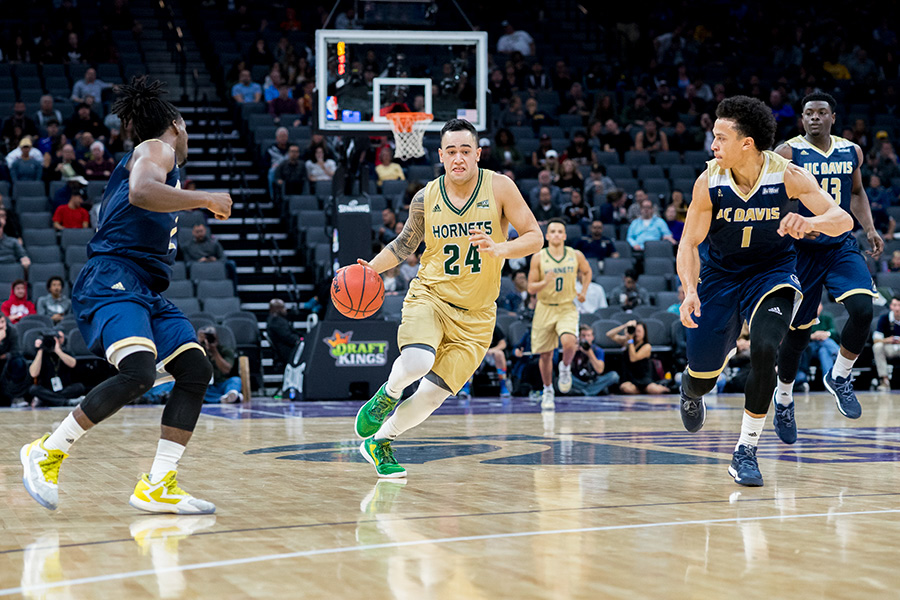 Sac State received contributions from all over as senior forward Nick Hornsby posted 14 points (6-12 FG) and nine rebounds, and junior guard Marcus Graves finished with 12 points (4-10 FG, 4-4 FT), four assists and four steals. Sophomore forward Grant Dressler came off the bench and led the team with 15 points (4-6 FG, 3-4 3PT), while true-freshman Izayah Mauriohooho-Le'afa struggled to find six points after shooting 2-of-10 from the field and 2-of-7 from the three-point line in his first collegiate start.
"We have a few young players who have to figure their way out a little bit and we've got to play a little smarter and we have smart kids, we really do," Katz said. "I thought we played really hard, not necessarily very smart and again I want to give Davis credit. I thought they had a lot to do with that — they kind of baited us into taking some questionable shots."
The Hornets, who now only lead the all-time series against UC Davis 66-49, next will play San Francisco in the EWU Basketball Classic on Saturday in Cheney, Washington.