Guys and Dolls: Conman, gambler cross paths in new musical production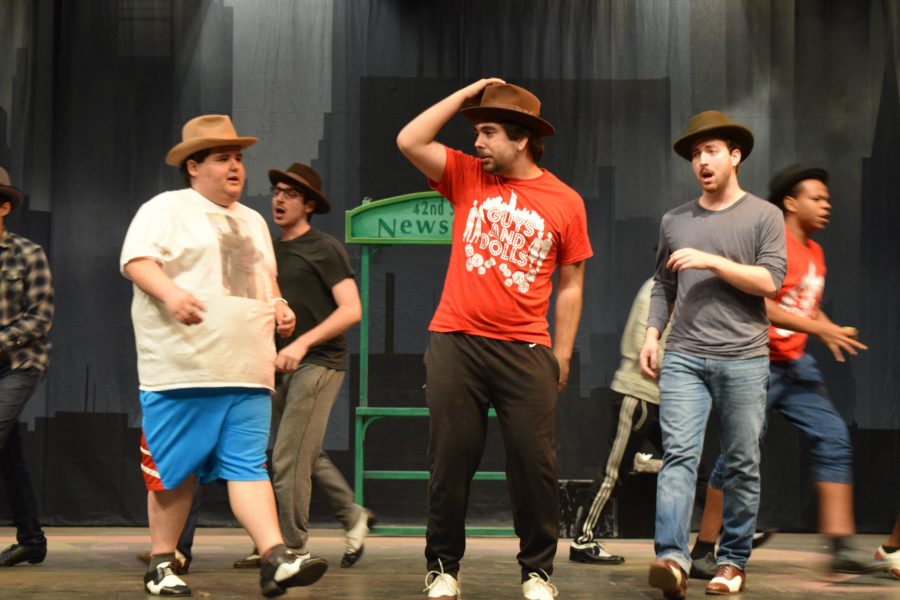 The Department of Theatre and Dance will bring the bustling streets of New York City and vibrant colors of Havana, Cuba to the stage at Sacramento State in a new musical production of "Guys and Dolls", which runs from Nov. 9 to 20.
The award-winning romantic comedy musical was made famous by a 1955 feature film of the same title, led by Frank Sinatra as conman Nathan Detroit and Marlon Brando as gambler Sky Masterson. The Sac State production will be directed by professor Ed Brazo, who has been directing plays and musicals in the theater department for 14 years.
"Directing this has been good," Brazo said. "I've been able to work with a lot of transfer students and freshmen that don't really have a lot of experience, so it's been more of a challenge to not only include instructions about acting but also directing the show."
Conceived as a musical based on Damon Runyon's short stories of the 1920s and '30s, the play focuses on Detroit's (played by senior theater and computer science major Panagiotis Roditis) attempt to host illegal floating craps games and the lengths Detroit would go to in order to secure his reliable reputation in 1950s New York City.
"You basically learn everything about him in the song we perform: "The Oldest Established". All my character's motives are right there," Roditis said.
In the show, Detroit needs $1,000 to pay the owner of the Biltmore Garage to host the game. But since he can't afford the price, Detroit makes a bet with gambler Masterson (played by theater and sociology major William Schmidt) that Masterson will not succeed in getting Sarah Brown, a devout leader of the Save A Soul mission, to accompany him to Cuba.
"It's been my dream for years to get this role," said second-year transfer student Sidney Raey-Gonzalez, who plays Sarah Brown in the show. "I always wanted to play Sarah ever since I saw the movie with Marlon Brando as a little girl."
Raey-Gonzalez also said that her character has more layers than what first time viewers may perceive.
"She's a driving force in the play," Raey-Gonzalez said. "She runs this missionary on Broadway, doesn't really think of love and she thinks of herself as unattainable. What's fun about Sarah, though, is that she has a drunk song and then a fight scene moments later."
Another notable part of the show revolves around Detroit's relationship with his fiancee of 14 years, Miss Adelaide, who consistently insists that the two need to get married.
To make the show happen, director Brazo had to cast a sizeable number of students and faculty. For instance, Sheree Meyer, the Interim Dean of the College of Arts and Letters was tapped to play the role of General Cartwright. Meyer's character, the leader of the Save A Soul organization, threatens to close Brown's branch if she can't bring enough sinners to cleanse.
"My role is very pious, but she's interesting to play and a key force," Meyer said. "I've always loved Guys and Dolls ever since I was six. And what I love about this production is that I get to interact with so many students."
Brazo said that scripts for each semester were selected by a committee of theater directors and professors from the university. Each person was required to submit three suggestions and it is from this pool that the plays are selected. For Brazo, "Guys and Dolls" will be his eleventh production at Sac State.
"The suggestions range from all types of plays," Brazo said. "They're not always going to be sad or dark. We had auditions during the first week of September and there were a lot of students. Then we had call backs and we asked them to read and sing material from the play."
The show will feature memorable numbers from the film as well as numerous stage productions around the world such as "Luck Be A Lady," "A Bushel and a Peck" and "I'll Know."
Opening night will take place at the Main Stage of the University Theatre at Shasta Hall on Nov. 9 at 8 p.m. The show will run until Nov. 20.