Sac State women's soccer team earns Big Sky accolades
Following seven Hornets honored by their conference, Sacramento State head coach Randy Dedini was named Big Sky Women's Soccer Coach of the Year for the third time in 10 seasons.
Though projected to finish sixth in the preseason coaches' poll, Sac State (8-7-4, 6-2-2 Big Sky) won its last five games of the regular season to earn the No. 2 seed in the Big Sky Tournament, where the team was edged 3-2 by Northern Arizona on Nov. 4.
"I've never claimed to be the best coach in the conference, but I think the one thing that my teams have always brought is that they always compete and play really hard, and I'd like to think that I have something to do with that," Dedini said.
The last times Dedini earned the top conference honors were in 2007 and 2010, when the program won its first two Big Sky championships and earned NCAA Tournament berths.
"I think this team is right there with those squads," Dedini said. "Soccer's a funny game — you can outplay an opponent (and) you can outshoot an opponent, but it doesn't mean you're going to win."
During the regular season, the Hornets went undefeated (4-0-1) in conference road games and tied a program record with eight matches decided in overtime. Midway through the season, the team followed two double-overtime ties with consecutive losses — the second of which was a 5-1 rout to Idaho.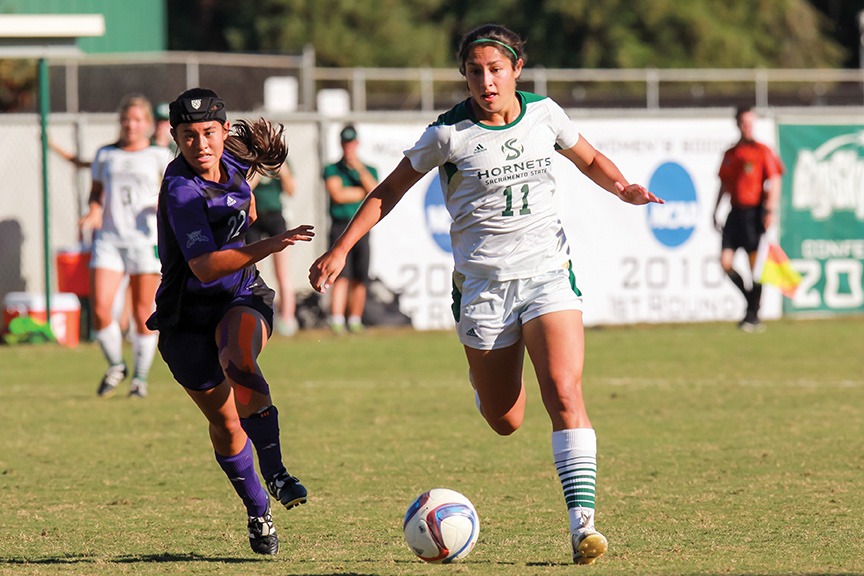 With the postseason on the line and a string of conference play ahead, Dedini and his staff applied a back-to-basics approach to practices.
"When things are getting stressful and things maybe aren't going well for us, usually what I do is I try to get back to the fun of the game because when our girls are playing and having fun and enjoying themselves — usually they play their best soccer," Dedini said.
Accompanied by music on the field, the team ditched some of its routine tactical drills for competitive drills to lighten the mood and simulate in-game situations.
"He kept our confidence up — he definitely was not down on us at all," senior forward Adaurie Dayak said after being named all-Big Sky honorable mention for the second time in her career. "We were kind of negative around each other but he told us that we need to stay positive (and) work together."
After the loss to Idaho, the Hornets completed a five-game winning streak, with three conference wins on the road. This was thanks in large part to the 13 seniors on the roster at the start of August who offered no shortage of experience and used its familiarity to gel as a unit.
"Our senior class was very strong and we're like sisters — we know everything about each other and we're so close that if one person cries we all cry," senior defender Alexa Heinzer said after earning  all-Big Sky second-team honors. "I think there's just so much love for each and every one of us and we cared so much this season and we wanted to show it."
One of Sac State's biggest strengths throughout the season was its defense, as the team completed six shutouts, allowing 19 goals in 18 games. The 3-2 tournament loss to Northern Arizona marked the second game the Hornets gave up more than two goals all season.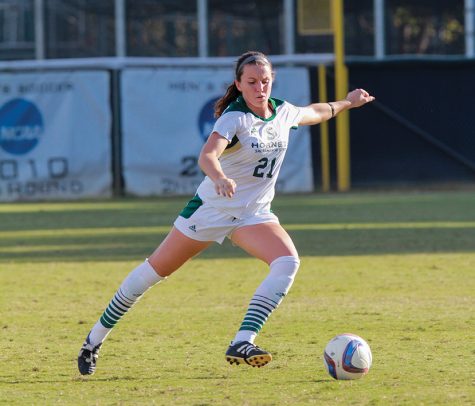 Leading the defensive charge was senior defender Rachel Leonard, who became the second player in program history to be named Big Sky Defensive MVP. Leonard played all 1,740 minutes of the season — the only Hornet to do so.
"It's hard to be recognized as a center back or as a defender because you're not out there scoring goals, so I'm so happy that (Leonard) got recognized," Dayak said. "I would say she's the best player on our team, by far."
Senior midfielder Jennifer Lum led the Hornets offensively, with six goals and 36 shots on goal. Lum, who was named to the all-Big Sky first team, scored Sac State's second goal against Northern Arizona after driving through four defenders.
Though the team will lose 11 seniors after this season, Dedini and his players remain confident for next year with a strong list of experienced returners including sophomores Caitlin Prothe (midfielder) and Destiny Butcher (goalkeeper) who were both all-Big Sky honorable mentions this season. Also returning is freshman midfielder Mikayla Reed, who started 17 of 18 games played this season and was named co-Big Sky Top Newcomer.
"She's a stud," Leonard said. "She came in from the get-go and passed her fitness and worked extremely hard and she definitely deserved her spot as a starter all the way through — I'm super excited to see how much more she can grow because she's already such a good player at her age."