Women's basketball team cruises in exhibition win over Hawks 92-55
The Sacramento State women's basketball team overcame a shaky start and cruised to a 92-55 victory over Holy Names University to open exhibition play Sunday at the Hornets Nest.
As an NCAA Division II team, Holy Names finished last season 8-20, but showed up eager to prove themselves in Division I competition.
"They were aggressive — they attacked the glass, they were physical and strong, and thought they were a pretty athletic team," Sac State head coach Bunky Harkleroad said. "Once we settled down and started playing and finding a rhythm, (we) were able to wear them down."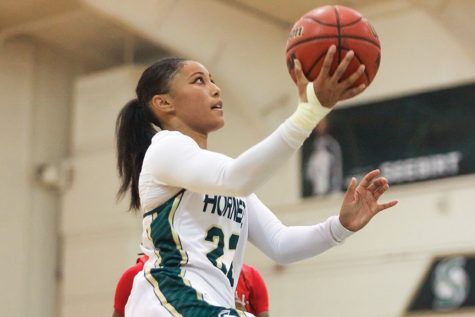 The Hawks opened the game on a 6-0 run and entered the second quarter with a 24-22 lead, powered by junior forward Tatiana Howard, who was second in team scoring (10 points) and dominated the boards with 19 total rebounds — more than any player on either team.  
Sac State found its offensive rhythm in the second half, flashing signs of the team's usual high-octane power in the second period where junior guard Maranne Johnson scored a three-pointer, followed by a steal from senior forward Margaret Huntington and another triple from junior point guard Justyce Dawson four seconds later.
"I thought we definitely got out our first-game jitters," Huntington said. "We've got to work on boxing out and securing those rebounds and just playing with confidence (and) getting open shots."
Huntington led the Hornets in rebounds (16) and tied for steals (4) in the exhibition contest. She also finished with the second most assists (5) and points (14).
Only 11 of Sac State's 16 eligible players suited up for Sunday's game , so the team's freshmen saw extra minutes on the court. Forward Kennedy Nicholas had seven rebounds and tied Huntington for most steals (4), and guard Tiara Scott had three assists and scored 11 points while adding a three-pointer to the team's 11 total.
"I thought the freshman did very well," Johnson said. "Kennedy was trying very hard to get the boards, and Tiara was penetrating well and dishing (passes) off to our bigs and getting them nice looks."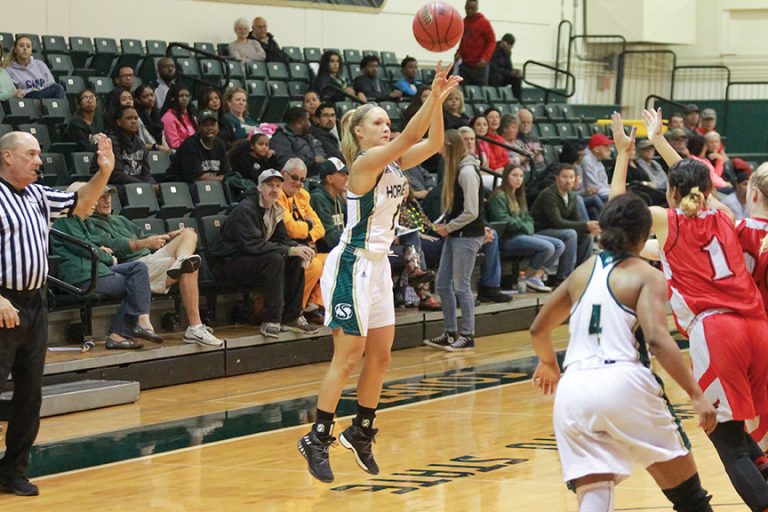 Sac State sophomore guard Raegen Rohn led the team in scoring with 15 points, shooting 5 for 10 from beyond the arc.
The Hornet defense held the Hawks to 21 second-half points, while forcing 28 turnovers and allowing only 9 points in the fourth quarter. Sac State finished the game on a 14-0 run, scoring all of its last six field-goal attempts.  
Up next, Sac State will host its final exhibition game against San Francisco State on Nov. 6 before opening the season on the road against the University of San Francisco at the War Memorial Gymnasium on Nov. 11.