Vin Scully: broadcaster goes beyond baseball for Sac State professionals
The little boy who became a New York Giants fan in 1936 ironically broadcasted his final game for the Los Angeles Dodgers against the San Francisco Giants in 2016.

Longtime Major League Baseball broadcaster Vin Scully retired on Oct. 2 after a 67-year career with the Brooklyn and Los Angeles Dodgers.
Sacramento State's very own play-by-play baseball broadcaster Anthony Rifenburg describes Scully as "simply the greatest baseball broadcaster that has ever been and that will ever be."

Born in New York City in 1927, Scully developed a desire to become a sports broadcaster listening to football games over the radio as a child. After serving two years in the Navy, Scully attended Fordham University, where he played center field for the baseball team and called radio broadcasts for the basketball and football teams.
Scully began his first broadcasting job in 1949 with the CBS sports network and the following year, he started broadcasting for the Brooklyn Dodgers.
Steve McElroy, who serves as the play-by-play broadcaster for the Sac State men's basketball program and as the color analyst for football, has been calling games for both teams for 20 years. For football games, McElroy and his partner Jason Ross are able to take listeners back in time through Sac State's heartbreaks and victories from a first-person perspective, similar to what Scully does for Dodgers fans.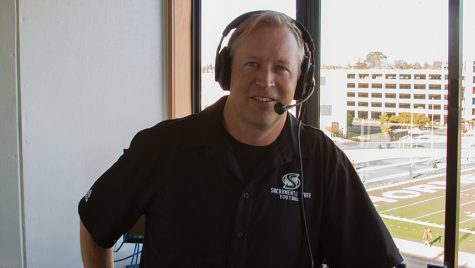 "It's something you should have as an organization," McElroy said. "Having an announcer that is with the team for a long time really gets to paint the picture of the history that leads up to the moment."

Scully's career with the Dodgers lasted 67 years, which is longer than any broadcaster with a single team in any of the four major professional sports. During that time, Scully covered football games for CBS, tennis and golf tournaments for NBC, and numerous World Series games, All-Star games and National League championship games for both networks.
Scully has also been named the National Sportscaster of the Year in 1965, 1978, and 1982. Scully has been inducted to the Hall of Fame by American Sportscasters Association, National Radio Hall of Fame, NAB Broadcasting Hall of Fame, and the California Sports Hall of Fame.
"His style is one of a kind, and one that nobody else will ever be able to completely duplicate," Rifenburg said in regards to Scully's sincere interest with fans and listeners.
McElroy added, "The difference between Scully and other broadcasters, the number one thing is he considered his audience his friends. Having a great voice or numerous cliché statements doesn't make you a great broadcaster … there was a true relationship between him and his audience."
Scully had a unique way of connecting with his audience, using his conversational style as a way to transition the listener to join him on that day's game.
"You or the audience could be having a terrible day," McElroy said. "But Scully said 'and a pleasant good evening' to start his broadcasts to bring the listener to something that is pleasant now. It is the reason I say it as well to begin my broadcasts."

Scully as a broadcaster was educational and he always made the audience his top priority, which is something you do not see often with broadcasters.
It's also rare to see sports fans everywhere get filled with sorrow when a broadcaster decides to retire.

"Vin Scully is one of the best because it wasn't about him," McElroy said. "It was about him talking and educating a friend who could not make the game that day."