Graduate student's exhibit features cement, stockings hanging from ceilings
Stockings and cement may sound like two things that can never go together, but they became the center of attention at the reception of a gallery show by second year graduate student Bailey Anderson Thursday night in the Robert Else Gallery.
The pieces were part of Anderson's Advancement to Candidacy show, which the artist describes as an audition to move forward with her thesis project.
Anderson, who is one of six graduate students having their own Advancement to Candidacy exhibits, said the main purpose of the show is to see whether they can hold a gallery space on their own, as well as to examine how they utilize the space and what artistic decisions they were able to make in the process of putting on the show.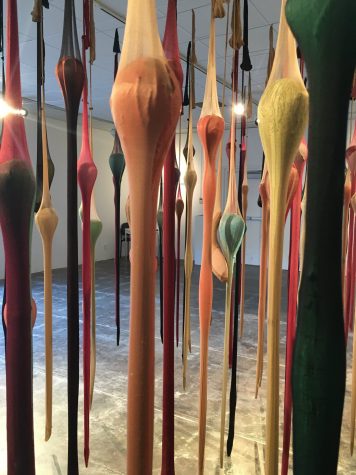 "Part of the growing process of an artist is to figure out what is working, what is not, what is too literal, and what is not literal enough," Anderson said.
Anderson's four displayed unnamed pieces were made from the same materials. Each piece was created by pouring colored cement into stockings and then manipulating it to be molded or hung from the ceiling.
"I wanted to manipulate the material and push it to change its visual and structural weight," Anderson said. "I wanted to get to a stronger place in my work so I started playing around with the materials and ended up just pouring cement into nylons."
Anderson also said that centerpiece work, which consists of rows upon rows of cement strands, pushed her even further than she expected in experimenting with limits of her chosen materials and how they interact with the gallery space.
"When I started I didn't realize how much weight I was making for this space," Anderson said. "The process of hanging the show was more difficult than I thought it would be. We had to install brackets and cables, and as we were hanging the pieces, the walls started caving in."
With the centerpiece weighing over 300 pounds, Anderson along with the help of her graduate coordinator and fellow students had to reinforce the walls of the gallery just to be able to hang the piece.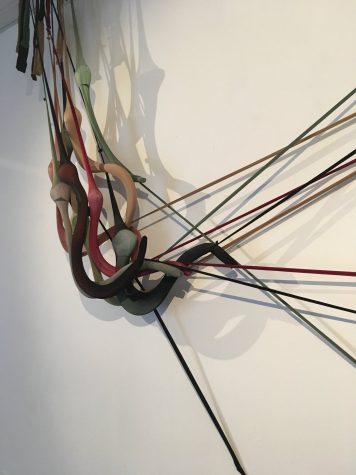 First year grad student Mustafa Shaheen, whose artworks have also been shown at Sac State many times in the past, said that Anderson's exhibit is the most work anyone has put into a show.
"She worked so hard and had to do a lot," Shaheen said, "but it paid off. It's a beautiful show."
During the show, Anderson said that she was pleased with the turnout for the opening and glad  that everyone seemed to enjoy her works.
"I hope everyone can get their own sense and reading from the work," Anderson said. "I have a particular reading in mind that I would love for people to get, but part of the learning process for me is to see how people receive the work when I'm not around."
Over the next few weeks, three more graduate students will display their own works at the same gallery as part of the Advancement to Candidacy program.