Despite falling 1-0, men's soccer clinch home-field postseason game
In Sacramento State's senior day and final home match of the regular season, the men's soccer program fell 1-0 to UC Santa Barbara on Wednesday in the final minutes.
The Hornets (8-7-2, 4-4-1 Big West) out shot the Gauchos (10-5-3, 6-0-3 Big West) 13-6, but were unable to capitalize on its opportunities, including three open shots in the box in the final 10 minutes of the game at Hornet Field.
"I was pleased with the overall performance," Sac State head coach Michael Linenberger said after the team honored its 10 seniors on the roster. "But I thought we deserved to get a little more out of it than what we got."
The loss removes Sac State from contention for the Big West North division title, but an overtime loss by UC Davis against Cal Poly on Wednesday clinched the Hornets' a No. 2 seed in the division. Sac State will also host a Big West Tournament game for the first time in program history on Nov. 5 against the No. 3 seed of the Big West South division.
"I couldn't be more proud and pleased with the seniors," Linenberger said. "They've led the team not just in goals but off the field as well."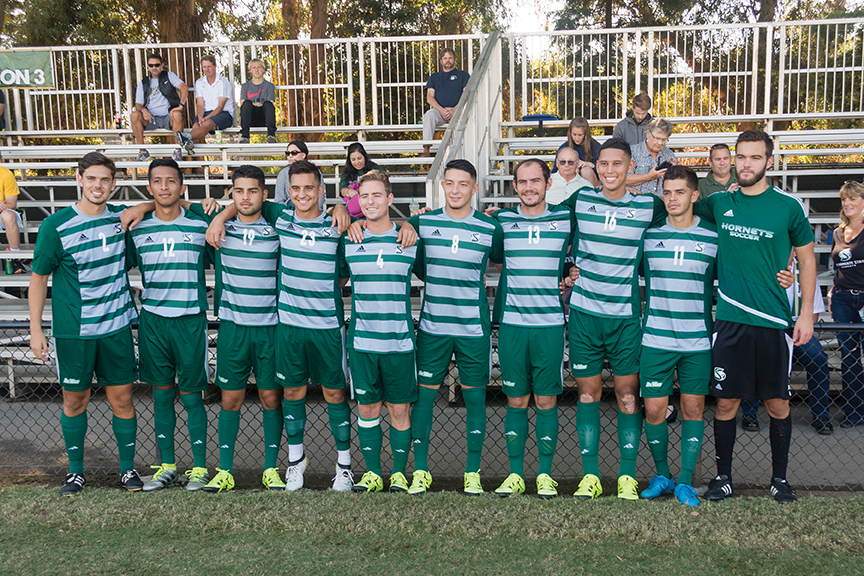 Both teams played strong defensively as neither unit recorded a shot on goal in the first half, and finished the contest with only a combined total of six shots on target.
The lone goal of the match came in the 81st minute as Gaucho forward Ahinga Selemani, who recorded two shots on goal, received a pass from Jan Ilskens and cut towards the middle of the box then shot the ball into the top far post for the score.
In the final 10 minutes, the Hornets missed three potential goals that would have equalized the score and forced overtime: Senior defender Andrew Gosselin missed high on a header off of a cross, senior forward Nate Nugen shot wide left on an open goal opportunity and senior forward Alex Bettencourt missed right on a free kick from 20-yards out in the final minute of the game.   
"Just knowing it could have been our final home game, we tried to give it our all not only for the fans but for us as well," Sac State senior defender Argenis Ramos said. "It just didn't work out."
The Hornets will prepare next for its final regular season game of the season at Cal Poly San Luis Obispo on Saturday at Alex G. Spanos Stadium.