Conference seeks to empower women of color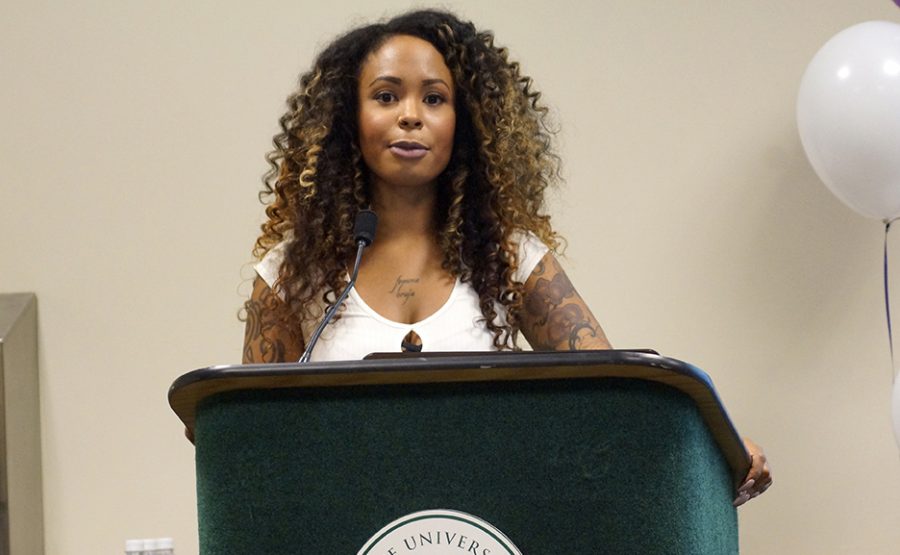 The Third Annual Empowering Women of Color Conference, whose theme was Speaking Our Truth to Power, was held at Sacramento State's University Union on Friday.
The conference consisted of workshops and lectures organized by the Women's Resource Center, and featured speeches by staff, professors, students and guests.

In an earlier interview, Aisha Monique Engle, the director of the center, said this is the third year the conference takes place on campus and said that every year the center adds more workshops to the event.
Engle said that the conference was designed to help women of color to empower themselves  and reaffirm their value when they are most marginalized.  
"At the end the conference seeks to give women the insight with academic workshops working environment and with a wealth of opportunities, and to walk out with upliftment," she said. (Story continues below)
Kim Katrin Milan, motivational speaker, activist, speaking at #SacState Third Annual Empowering Women of Color… https://t.co/BJbe7gheMy

— Marivel Guzman (@akashma) October 21, 2016
The conference began with remarks by Robin Carter, an associate dean of the College of Health and Human Services. Carter said that being with the right person is very important.
"Whoever you partner with, If this person cannot walk with you all the way, then he is not the right person," she said.
Carter said that there is nothing more powerful in inspiring  others to come back to school and pursuing a career.
The conference continued with a keynote speech by Kim Katrin Milan, a motivational speaker from Trinidad and Tobago and the executive director of The People Project, an organization dedicated to alternative education and art activism and collaboration.
Milan said she engages in activism because of her mixed background.
"I grew up listening to various languages in my home and I grew up in a mixed cultural environment," she said. "I thought the world was like that."
Milan said that when she came to North America, she realized that the world was not like that.
"I went and I became community educated rather than institutionally educated," she said.
Milan created The People Project because she wanted to recreate a diverse experience for others to learn in. She said that she wants to address how different marginalized identities women of color have intersect with one another.
"I'm not fractions; I'm layers," she said. "That is how she understands what intersectionality is."
Janelle Hope, a professor from the Graduate Academic Achievement and Advocacy Program at UC Davis, conducted a workshop that identified what minority women can do to confront issues facing them in society.
"The greatest thing a women of color can do is to go out and spread truth," she said. "What does it means to bear truths and to bear one's own narratives and identities on the line and be unapologetic?"