Hornets undefeated at home after 3-2 conquest over visiting Spartans
A strong first half boosted the Sacramento State men's soccer team to a 3-2 victory over San Jose State on Sunday at Hornet Field, giving them a 2-0 record at home this season.
The victory — in which the Hornets netted a season-high three goals — puts Sac State at 3-3 overall while the San Jose State Spartans fall to 1-4-1. The Hornets came out in attack mode early on as the team finished with an advantage in time of possession, outshooting the Spartans 13-6 in the first half and 21-13 throughout the entire match.
"I thought we carried almost the entire first half," Sac State head coach Michael Linenberger
said. "Other than last two minutes of the first half, we played exceptional."
The first Hornet goal came in the 18th minute in a senior-to-senior connection as forward Alex Bettencourt dumped off a lead pass to midfielder Ivan Ramirez, who scored from 10 yards out.
The shooting spree continued as Sac State fired a total of 7 shots before San Jose State recorded its first official shot of the game.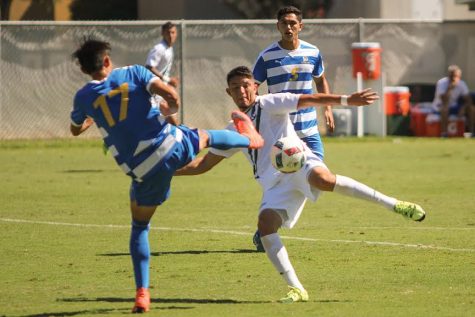 The second goal on the scoreboard for the Hornets was scored in the 33rd minute as senior forward Nate Nugen scored on a wide open shot after receiving a pass from junior Trevor Jackson deep in the box. The Spartans scored their first goal in the final seconds of the first half as junior Jeremy Romero capitalized on a header that came in off a corner kick, slimming the Hornet lead to 2-1.
Sac State quickly responded in the 49th minute of the second half after Bettencourt, who scored the game winning goal against Portland on Thursday, fired in a shot and extended the Hornet lead 3-1. Momentum shifted to the Spartans' favor in the 54th minute after Hornet goalkeeper James Del Curto was whistled for a penalty in the box, and San Jose State junior Leonardo Silva scored on the ensuing penalty kick.
From that point on, the Spartans controlled the time of possession and fired more shots than Sac State, but Del Curto was able to collect 3 saves and protect the Hornets' 3-2 lead for a victory.
"It was a nitty gritty game, but we took care of business and won a tough game," Nugen said after scoring a goal for his second straight game.
The Hornets will continue the homestand for two more games as the team plays Utah Valley on Thursday and Saint Mary's on Saturday in the Copa De Causeway co-hosted by UC Davis and Sac State. Follow @SH_Sports on Twitter for up-to-the-minute score updates on both these matches.