Ghostly good vibes at Nooner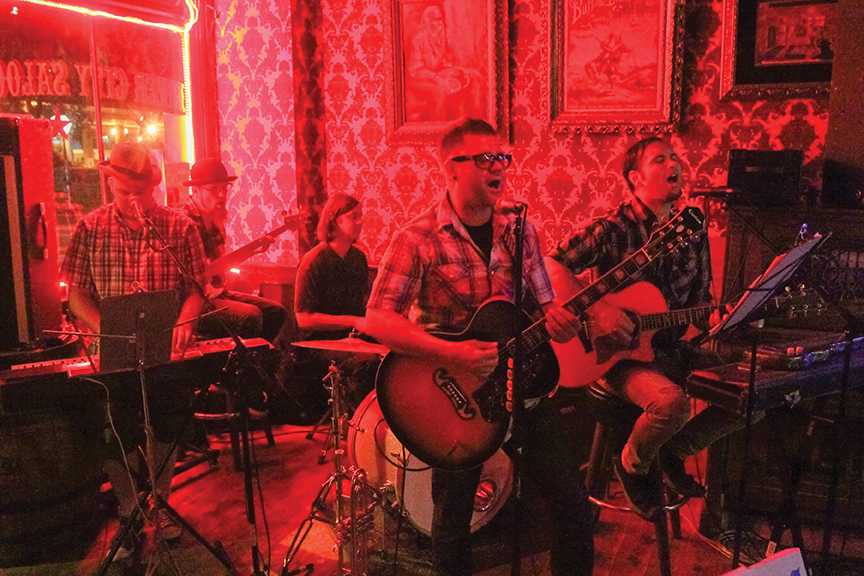 The Ghost Town Rebellion is a local Americana band that proves Sacramento does have a growing music scene – one that is dedicated to playing good old-fashioned rock 'n' roll.
The group is slated to perform their Sacramento State set on Sept. 14 at the University Union Serna Plaza (located in front of the Hornet Bookstore) as part of UNIQUE Programs' semester series of weekly Nooner concerts.
The Ghost Town Rebellion is no stranger to Sac State, having performed at a Nooner last September.
"It's great having a lot of young fans that appreciate the music," said Steven Martin, who plays drums for the band.
When asked to describe the band's sound, which occasionally goes into an acoustic form, frontman Shawn Peter, who provides lead vocals and plays guitar and horn, said it is more classic rock with hints of funk, soul, folk, Americana and a bit of quintessential singer-songwriter elements that drive toward one thing: making music that anyone can groove to.
As for the inspiration behind the band's name? "Perfectly history," the band said unanimously. Even the band's Facebook page describes their music as "true history set to music".
It's been three years since Peter went separate ways with his previous band, A Single Second, and sought to form a new pack with a di erent sound. Peter said the shift involved a transition from post-punk to "grit rock".
Mike Schively, who also provides lead vocals and guitar, had known Peter for 20 years while the other two players, Sean Navin on bass and Mikey LP on keyboard and backing vocals, were found through ads on Craigslist. All four members share many years worth of music knowledge and it shows in its current genre-fusing sound.
The group gathered under the idea to make music that should be fun to produce, fun to perform, and ultimately, provide a sense of that familiar old-fashioned rock.
The band's music is recorded in Peter's recording studio, appropriately named 'Decompression Chambers,' before it is sent to an associate, Joe Johnston, to be mixed and ready for consumer listening.
Since forming in 2013, the band has largely been touring in Northern California as well as parts of Nevada.
Ghost Town Rebellion had been performing at River City Saloon from 9 p.m. to 12 a.m. every rst Thursday since July, becoming a regular that some patrons recognize. It was no coincidence that since the band started playing, more patrons started trickling in.
"The size doesn't really matter," Peter said about the aspect of playing in different sized venues, "What we really care about is whether a bar or a theater such as the crowd," Peter said. the Crest in Midtown.