Active Minds director opens up about depression during 'From Silence to Strength'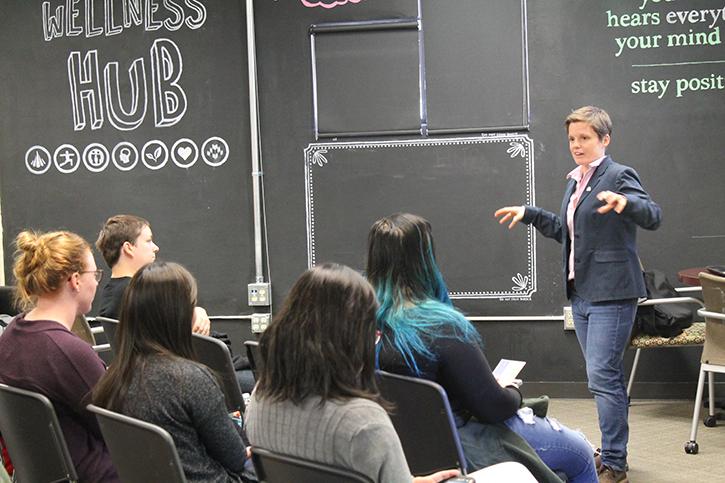 Facing a packed room of students in the Wellness Hub, Maggie Bertram bared her soul and gave some words of wisdom during her presentation, "From Silence To Strength," hosted by the Sacramento State Active Minds chapter.
Bertram, who serves as the associate director of training and education for Active Minds and is also part of the Active Minds Speakers Bureau, spent about an hour sharing her story of dealing with mental illness, spanning from her life as an only child, through elementary school and continuing to her college career.
The beginning of Bertram's struggles with mental illness started in fifth grade, when she got a bad grade on a science assignment.
"From fourth grade on, I knew exactly what my role was, and what the expectations were," Bertram said. "Then in fifth grade, I had this one failure, and everything I thought I was going to be, all of a sudden I am not."
The struggle continued on through high school, where even though she was a three-sport athlete, musician and honor roll student, she didn't feel like it was enough. Even in college, she kept pressing for perfection until her junior year of college, when she started feeling ill due to her eating habits.
"My friends recommended I go see a counselor," Bertram said. "I was diagnosed with anorexia nervosa, obsessive compulsive disorder — which explained the nonstop exercising — and last but not least, major depression."
The rest of the presentation was focused on how she managed to come to terms with her situation, as well as her other life discoveries such as coming out to her parents as a lesbian, and admitting herself into outpatient treatment. In the end, Bertram managed to paint a positive picture of her life, giving hope to the students that were present.
Jay Cordova, a 28-year-old junior and psychology major, was moved by Bertram's message of helplessness and being able to overcome it.
"I saw how she spoke about how she had a lot of people that were allies, very helpful to her," Cordova said. "A lot of stigma you see in the media, you feel like no one is going to respond well to you; they're going to reject you. But it helped hearing someone who had this really long journey and come out on top."
Another student present for the event was Nicole Touchette, a senior social work major who also is a Peer Health Educator. She said that Bertram's speech spoke volumes to her, and gave strength.
"On a personal level, being someone that advocates for reducing stigma, not just around campus but everyday life, it's really empowering to know there are people out there who are doing this, that are willing to open up and tell their stories," Touchette said.
For Bertram, however, the ultimate victory is when she hears other people's stories and seeing them recover.
"When people tell me their stories, it gives me hope that we're approaching a time where there will be campuses that are not like the one I went to, where no one wants to talk about it,' Bertram said. "It'll be an open conversation that isn't saddled with judgment and stigma."