Sac State works hard to maintain Title IX compliance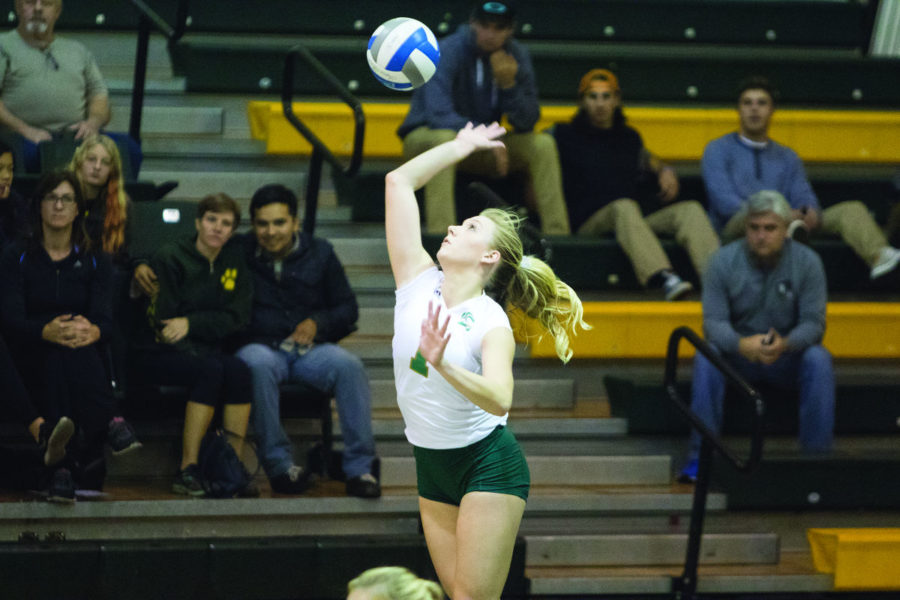 Title IX of the Education Amendments of 1972 provided a tangible piece of legislation to establish gender equity in the American education system and is very well-known for its impact on collegiate athletics.
However, the exact influence that Title IX has had on athletics is rarely understood to the fullest extent, even to die-hard college sports fans and, in some cases, even the athletes themselves.
Many students who are the beneficiaries of Title IX's implementation do not know how compliance with it is determined or monitored, leaving them clueless as to their own school's level of gender equity.
Title IX essentially boils down to a school's ability to prove that it provides equal opportunity to men and women, something Sacramento State Assistant Athletic Director and Senior Women's Administrator Lois Mattice takes very seriously.
"A priority on every decision that's made is, 'How does this affect our gender equity?'" Mattice said. "We always want to take into consideration the equity between not just male and female, but across all of our sports…I'm here to make sure everybody is treated equitably, fairly, and inclusively."
The process that Sac State has adopted to ensure it is in compliance with Title IX includes an opportunity for student-athletes to voice their concerns and opinions regarding gender equity on campus, according to Assistant Athletic Compliance Director Jean Estevez.
"At the end of each academic year, all of our student-athletes have a questionnaire that they have to fill out," Estevez said. "So they sit down, answer questions and if they feel like anything happened, they can take that time to write and share their thoughts. Those [questionnaires] are reviewed and we look over them and make sure there's not any huge issues that we have to address right then and there."
The language of Title IX is relatively vague but does explicitly state that schools are responsible for self-evaluating, which Sac State does by maintaining roster sizes and athletic funding to budgeted amounts.
"Before a competition, every team has to sign off, so I take the complete roster from each of the teams and we have a form that we use," Estevez said. "I look at the number and make sure that number is hitting the guidelines that we've set. We also like to make sure that when the teams go [on the road], the facilities need to be very similar."
Estevez said that the budgets are fixed, and that teams that plan on going over budget have to fundraise for additional money.
With many students and even student-athletes being unfamiliar with Title IX, Sac State's compliance may be unchecked by those it affects, but the athletic department has done its best to assure that they abide by its regulations.
In fact, while women are typically the ones associated with Title IX's positive influence, it is they who have more NCAA-sanctioned sports and overall athletes than men at Sac State and who have produced the school's only national championships—Softball: 1981, women's volleyball: 1980-1981, and women's golf: 1981.
According to The Equity in Athletics Data Cutting Tool, $2,157,597 of athletically related student aid was allocated for women's sports in the last academic year compared to $1,970,147 for men's sports, reflecting a 52-48 percent split in funding at Sac State.
"Scholarships and roster numbers are based on what the enrollment is of the university," Mattice said. "We have 56-57 percent enrollment of females versus 42-43 for men, so our squad sizes have to be very similar to the enrollment of the institution. That's why we have 12 women's sports and nine men's sports."
Some male athletes at Sac State may view this as unfair, but when considering the total funding allocated to each gender's sports, the numbers are slightly skewed in the other direction. Men's sports received a total of $7,814,935 compared to women's sports' $6,189,562 in the 2014-15 academic year.
In fact, football received nearly a quarter of the entire athletic budget and men's basketball received over 10 percent of the budget, while the highest funded women's sport, basketball, received about 7.25 percent of the budget.
This can be reconciled by the fact that football and men's basketball bring in the most revenue and attention, but the figures still seem slightly inflated, especially when considering the money allocated for recruiting in men's versus women's sports.
In the last academic year, $153,993 was budgeted for recruitment in men's sports, while $101,740 was allocated for women's recruiting. This is an odd discrepancy considering the difference in the number of female athletes (350) and male athletes (267) at Sac State.
Although these numbers seem skewed, the vagueness of Title IX allows for numbers like Sac State's to continue because of language like "opportunity."
Additionally, Sac State's distribution of funds is actually comparable to schools like UC Davis, which allocates 24.5 percent of its athletic budget to football, and is far fairer than that of programs like Ohio State, which allocates 41.5 percent of its budget to football or the University of Alabama, which awards over 60 percent of its budget to football.
Gender equity is clearly still a major issue in the U.S., but Sac State is comparatively ahead of the curve when it comes to athletic gender equity. While it does have some room to grow, it should be noted that women's sports at Sac State have been just as, if not more, successful than the men's teams despite the differences in funding.
That funding has led to numerous conference championships, and Mattice said it is the reason Sac State's women's sports have been so prosperous.
"I can't really speak for other schools, but within the Big Sky, I think we're probably the most fair and that's why our women's sports are successful, whereas in the Big Sky, some of the other minor sports aren't funded the way they should be," Mattice said.