Sac State recognizes Sexual Assault Awareness month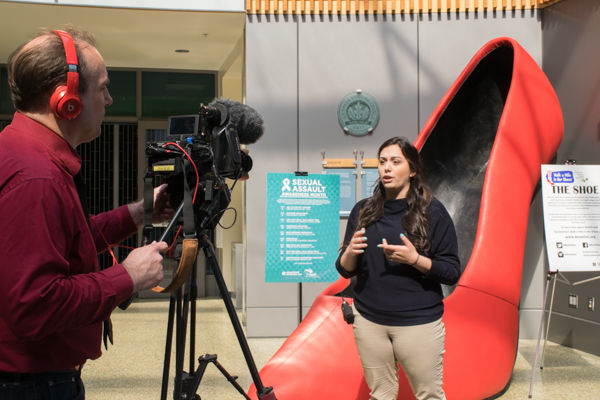 State Hornet Staff
April 7, 2016
At Sacramento State, April is Sexual Assault Awareness Month. The month, which actually began on Monday, March 28, will feature various events with the aim to increase support for and awareness of sexual violence survivors and to prevent such occurrences in the future.
"The goal of Sexual Assault Awareness Month is to break down the silence around this issue – to get people talking about sexual violence, raise awareness, share information about resources available for survivors, and ultimately engage the campus community in preventing sexual violence before it starts," said Reva Wittenberg, associate director of Campus Wellness at Sac State.
Sexual Assault Awareness Month aims to foster a communal sense of responsibility and change perceptions regarding sexual violence at Sac State, according to Wittenberg.
"One of the things that we will emphasize during SAAM is the fact that the prevention of sexual violence is a community responsibility," Wittenberg said. "This approach rejects victim blaming and shifts the responsibility for preventing sexual violence off of potential victims and onto those initiating sexual contact and the community. We have several activities throughout the month that are meant to engage the community in 'owning' the issue and being active bystanders."
Wittenberg urges students to become proactive when it comes to the health and safety of their peers.
"Watch out for each other, and do or say something – anything – if a situation doesn't seem right," Wittenberg said. "You can truly save someone's life, and it's better to say something and risk being wrong about the situation than know that you could have made a difference but did nothing. It takes courage to speak up, but each of us can play such an important part in creating a safe community."
Sexual assault awareness at Sac State is not limited to just a month – the university works to make students' sexual health and safety a priority year-round through its partnership with WEAVE, a Sacramento-based organization that provides crisis intervention services for sexual assault and domestic violence survivors.
"WEAVE's mission is to build a community that does not tolerate domestic violence and sexual assault and provides survivors with the resources they need to be safe and thrive," said Julie Bornhoeft, chief development and marketing officer of WEAVE.
Bornhoeft said that when it comes to making Sac State a safe campus community for all, the school is a leader.
"It is obvious that Sac State leadership cares deeply about its students and their safety – this is evidenced in the campus's commitment to having an advocate position on campus years before it was recommended or required," Bornhoeft said. "Campus leadership has also worked to ensure that students are aware of resources, like WEAVE, beyond the campus."
For Sac State students, creating advocacy to support sexual assault survivors and to help prevent sexual violence incidents in the future is important.
"I think it's good that the university is hosting this [SAAM]," said Tran Vu, a senior majoring in gerontology. "I didn't even know this was going on this month – I haven't seen anything for it, so it's important that they bring more awareness to this."
The events scheduled to take place during Sexual Assault Awareness Month include:
-Shatter the Silence on April 4 at 5:30 p.m. in the American River Courtyard's market.
-The signing of the "It's On Us" pledge on April 4 from 10 a.m. to 2 p.m. in the Library Quad.
– "Let's Get Real, Talk About Teal" on April 7 at 1:30 p.m. in the University Union Wellness Hub and on April 28 at 6 p.m. in the American River Courtyard's large conference room.
– Take Back the Night on April 14 from 5:30-7:30 p.m. in the Library Quad.
– A Self-Defense Workshop on April 20 at 7 p.m. in The WELL.
– Denim Day at Sac State on April 27.
– The "Men Who Ask" workshop on April 28 from 5-7 p.m. in The WELL's Terrace Suite.
– Social Justice Coffee Hour: Supporting Survivors of Sexual Assault on May 5 at 3 p.m. in the Multi-Cultural Center.