Men's tennis is rested and ready to go for Big Sky tournament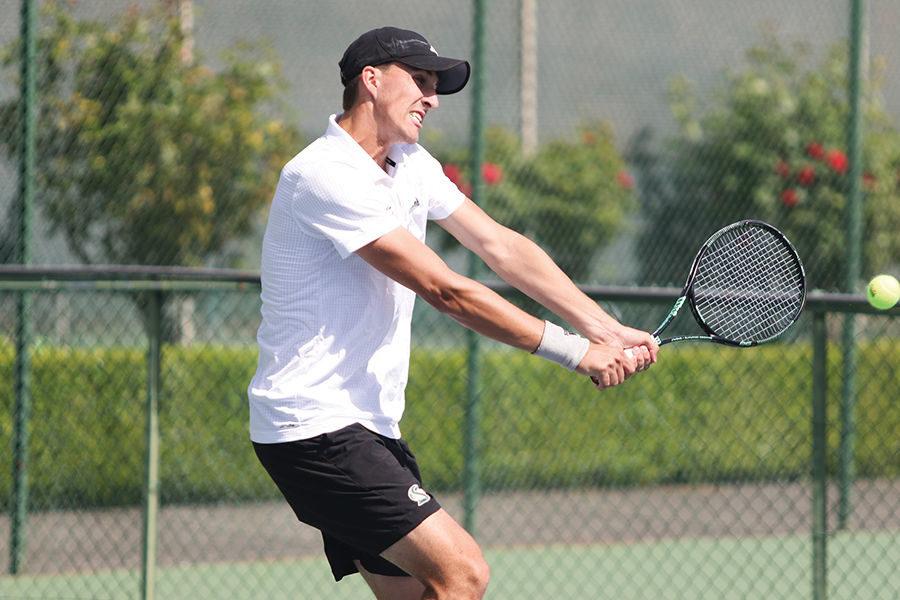 The Sacramento State men's tennis team (10-14, 8-3 in the Big Sky Conference) was pushed down into the fifth seed of the Big Sky Tournament as both Idaho and Northern Arizona finished their regular season with wins.
The Hornets, who were hoping for a third or fourth seed in the league tournament, will now face Montana on Friday, April 29 at the Gold River Racquet Club in Gold River.
Montana, the fourth seed, had already dealt Sac State a 6-1 loss at the beginning of April. However, that loss came to a tired group of Hornets who were missing sophomore Chris Clayton and coming off a long road trip where they played two matches in the three days prior.
Assistant coach Kevin Kurtz said he is optimistic for the tournament as Clayton has made a full recovery from his injury.
"Chris was out for two weeks with a tweaked toe and he's bringing it again, so we're ready," Kurtz said. "Everyone is fired up and ready to rock."
Having Clayton back in the ladder will certainly help the Hornets, but another factor favoring the Hornets was their three-week downtime.
Sac State finished its regular season on April 9. This significance of this is that for three weeks, the men got to stay local, rest well and get in peak condition for the tournament while other teams have just finished their seasons and will get just a week or less of recovery time before the tournament.
"All these other teams are playing each other, getting banged up, dinged up, and we're fighting hard at practice," Kurtz said.
The men are not going through the motions either, though, according to Kurtz.
"The guys have had really tough practices this past week and are doing a lot of match play this week," Kurtz said. "We can simulate point play pretty easily in practice so we'll actually have a couple of team matches."
Although the focus is primarily on the tournament, some of the men reminisced on their regular season highs and lows.
One of these Hornets remembering highlights from the season and hoping to make a couple more of them in the Big Sky Tournament was freshman Mikus Losbergs.
"Personally, I had a huge win in the beginning of the year against Utah," Losbergs said. "They are a Pac-12 team, a top Pac-12 team, and I played their No. 1 and I won."
With that win, Losbergs was awarded the No. 1 spot on the team and the responsibility of leading the young group.
"That was a good start, and after that [head coach] Slava gave me this amazing opportunity to play as No. 1 as a freshman," Losbergs said. "I think that's already a success that I started to play No. 1 and I think I did pretty good as a freshman."
Another Hornet who said he is hopeful for the tournament is senior Joaquin Marquez.
"I've won quite a few three-set matches, but to be honest I think I've made life a lot harder for myself than it should be," Marquez said. "I have not really been pleased with the way I've been playing this year at all."
In some ways, this tournament is Marquez's last chance for tennis redemption at Sac State.
"I've been thinking about it a lot, to be honest, and it's kind of bittersweet because I've been here for a while and I feel like it's time to move on in some ways, but I'm definitely going to miss it a lot," Marquez said.
If the men knock off Montana on Friday, they will face Weber State, who is sitting atop the ranks with a first-round bye, in the semifinals on Saturday.
"I recruited a lot of them, so it's just fun to have them come in here and have them do what they did…it was kind of fun to see all these freshmen guys come in and step it up," Kurtz said. "The guys are excited to play here in town, so we're fired up."