Hornets win in walk-off fashion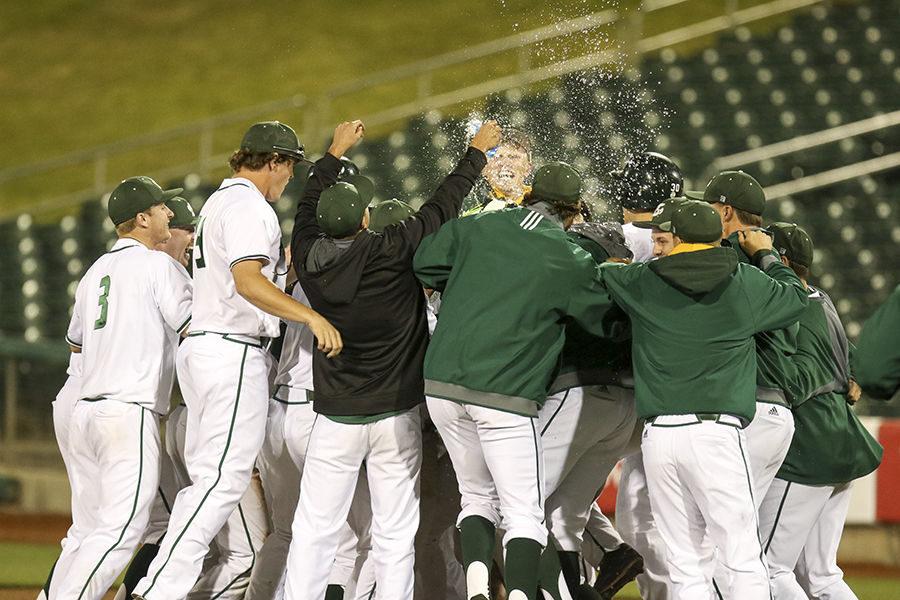 Will Soto's coaches and teammates knew he was due for something big. And the sophomore third baseman could not have picked a better time to deliver on their expectations.
Sacramento State's baseball team capped a three-game sweep of Seattle University in dramatic fashion when Soto's three-run walk-off home run in the bottom of the ninth inning sealed Sunday's 8-7 come-from-behind victory.
"Our assistant coach called it before he hit it," said sophomore pitcher Dallas Chadwick. "We told him yesterday he was due, because he hit three balls deep the day before. All of them got caught at the wall so we knew he was due."
Soto's booming shot came with one out and the Hornets trailing by two. Soto said he was thrilled about his contribution but most the credit should be given to the bullpen for giving them a chance to come from behind.
"I'm pretty excited," Soto said. "We started off a little slow, but we kept fighting. Our pitching kept us in it."
The Hornets fell behind early after junior starting pitcher Zach Morgan gave up four runs on five hits through two full innings of work. Morgan would not see the mound again in the third, but the Hornets' bullpen would keep the Hornets in the game by throwing six innings of scoreless ball over the next seven innings.
"We went through a lot of our pitching staff and it shows that we're strong," said sophomore pitcher Hunter Greenwood. "Even if we have trouble with one of our starters we have a lot of faith in our bullpen right now."
Sac State pulled within two of Seattle with a run in the fifth making the score 4-2. But the Redhawks widened the gap to 7-2 when redshirt freshman reliever Ty Nichols allowed three runs in the top of the sixth despite not giving up a single hit.
Those three runs proved to be the only ones the Redhawks would score off the Hornets' bullpen.
"That's what it's going to take," said head coach Reggie Christiansen. "We felt like it was just a matter of time (before) we were going to get an opportunity to put up a big inning. We did that late, but we had to rely on the bullpen to extend the game."
Christiansen said he was impressed with his players and the relentless spirit they showed.
"We're going to be in tight games all year," Christiansen said. "I think it's a testament to those guys understanding that that's how it's going to be."
The Hornets would continue to chip away at the Redhawks. After giving up the three runs in the top of the sixth, Sac State scored a run in the bottom of the inning and then added two more in the seventh to pull within two.
Soto said the players persisted in putting up runs by not giving up and constantly feeding off of each teammate's performance.
"Hitting is contagious," Soto said. "(Andrew Ayers), our lead-off hitter, did pretty good today keeping us alive, and you just build off things like that."
In the meantime, while the Hornets' batting steadily helped them climbed back into the game, the bullpen just kept on shutting down the Redhawk's lineup. Chadwick proved to be the pitching staff's workhorse, pitching 2 1/3 scoreless innings to keep things close.
But when Chadwick allowed three base runners in the top of the ninth, another member of the Hornets' bullpen proved to be the final piece to a strong afternoon of relief pitching.
In his first relief appearance of the season, Greenwood came into the game for Chadwick and quickly hung another zero the scoreboard.
"(Greenwood) didn't pitch very good on Friday," Christiansen said. "Greenwood came back and pitched out of the bullpen today and was outstanding."
Greenwood said he believes the bullpen's stellar performance is a sign of good things to come.
"We had questions in our bullpen at the beginning of the year," he said. "But our bullpen has come on strong. So I think it's no longer a question mark, we're doing pretty well."
Soto agreed and said having such a deep bench strengthens the team's resolve to win.
"That's a big confidence boost," Soto said. "Chadwick did good, Adrian (did good) and (Greenwood) in the last inning. It's pretty exciting that we can trust in all of our guys, and Reggie (Christiansen) has confidence in all of them just like we do."
With Greenwood's work finished, it was up to the Hornets' offense to deliver in the clutch.
Ayers led off the bottom of the inning with a walk, and then sophomore right fielder David Del Grande reached base after being hit by the second pitch he saw.
After second baseman Derrick Chung advanced both runners with a sacrifice bunt, the stage was set for Soto. Soto drove the first pitch he saw over the fence in right field.
Soto's long-ball was the first walk-off home run for a Hornet since May 16, 2008, when now senior catcher Brent Hottman hit a walk-off grand slam against Fresno State.
Greenwood said the team's first home run of the season was long overdue.
"We were all wondering, 'When is the ball going to get out of this park?'" Greenwood said. "I mean, shoot, it's been too long."
He said the dugout had a feeling they were about to witness something special.
"Chadwick's sitting there in the dugout and he says, 'Watch this, it's going to be a walk-off right here,'" Greenwood said. "Sure enough, the first pitch I see I said, 'Man that's high.' I literally was running out of the dugout when he started to swing. It was just smoked."
The sweep was Sac State's first since doing it twice in 2009.
"We needed to walk in here and sweep a series," Christiansen said. "That's something we hadn't done in a long time."
David Somers can be reached at [email protected]