Hornets finish sweep of Southern Utah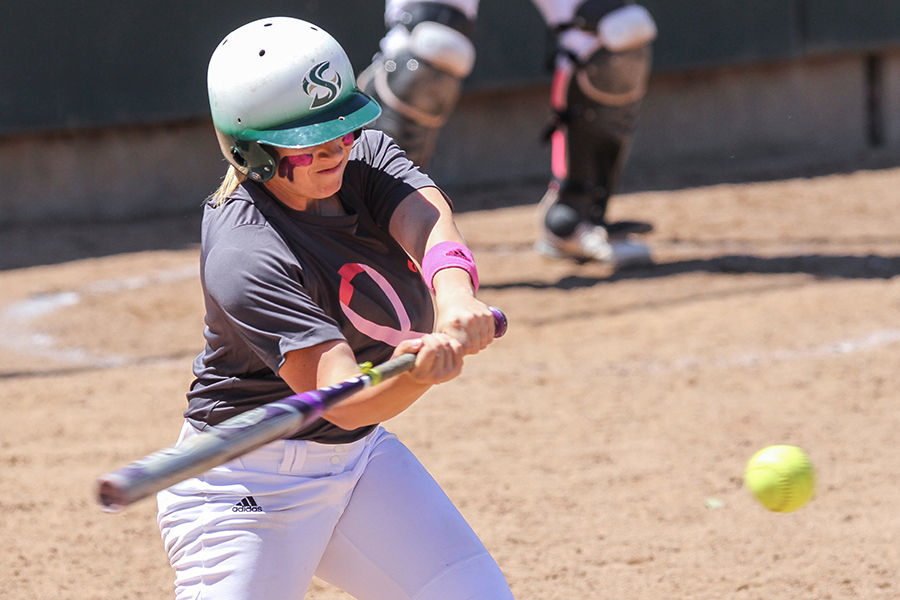 Sacramento State's softball team won its seventh game in a row on Saturday afternoon, finishing off a three-game sweep of conference foe Southern Utah (7-35) by a final of 4-0.
Pitcher Celina Matthias started the game for the Hornets and pitched a complete game shutout, allowing just four hits and striking out five. A first inning walk and double represented the only real threat against her today, as no other batters got to second base the rest of the day.
Matthias started all four games this home stand, pitching all 26 innings without allowing a run. The Hornets outscored their opponents 23 runs to none, and throughout the games, the clubhouse was making lots of noise and showing just how much a team these players have become.
"We always invite each other everywhere," Matthias said. "We do everything as a team, we don't do anything separately."
The Hornets knocked in their first run in the first inning. Shortstop Sydney Rasmussen hit a lead off double, and second baseman Zamari Hinton moved her over to third on a ground-out before designated player Sasha Margulies brought her home on an RBI ground-out, to give Sac State an early 1-0 lead.
The next frame saw the Hornets add on, with left fielder Kayla Papez and center fielder Shelby Johnston hitting back-to-back singles before Rasmussen smacked a two-out RBI single to right field. The Southern Utah fielder didn't handle the ball cleanly, allowing the second run to come in unearned and bringing the score to 3-0.
Even with Matthias on her game, Sac State wouldn't let up, adding on an insurance run in the fifth inning. Margulies hit a one-out pop-up down the left field line that the Southern Utah defender injured herself on trying to make the catch, and Margulies ended up at second. She advanced to third on a ground-out and scored on a ground ball off the bat of Kailey Olcott, which wasn't fielded cleanly by the Southern Utah second baseman.
With the win, the Hornets move to 11-1 in the Big Sky Conference and continue to sit atop the standings, but the team isn't focused on that just yet, according to Papez.
"I don't think we are, and I think that's good," Papez said. "I think we're not getting ahead of ourselves. We're taking it day by day at practice, game by game, not trying to look too far out. I think that's a good thing we're doing."
The Hornets wore pink during the game, in honor of breast cancer awareness, making this the sixth year Sac State has done so.
The Hornets (22-15) will hit the road next weekend, heading to face Idaho State, where coach Lori Perez says the team will need to adjust to the elevation and travel.
"Now we look forward to going [to] Idaho State, a place we're very familiar playing at," Perez said. "We're gonna prepare for what we're going to see and try to get good rest, getting a few workouts."
Sac State and Idaho State square off with a doubleheader Friday afternoon, with the first game starting at 1 p.m.