Blood Drive comes to campus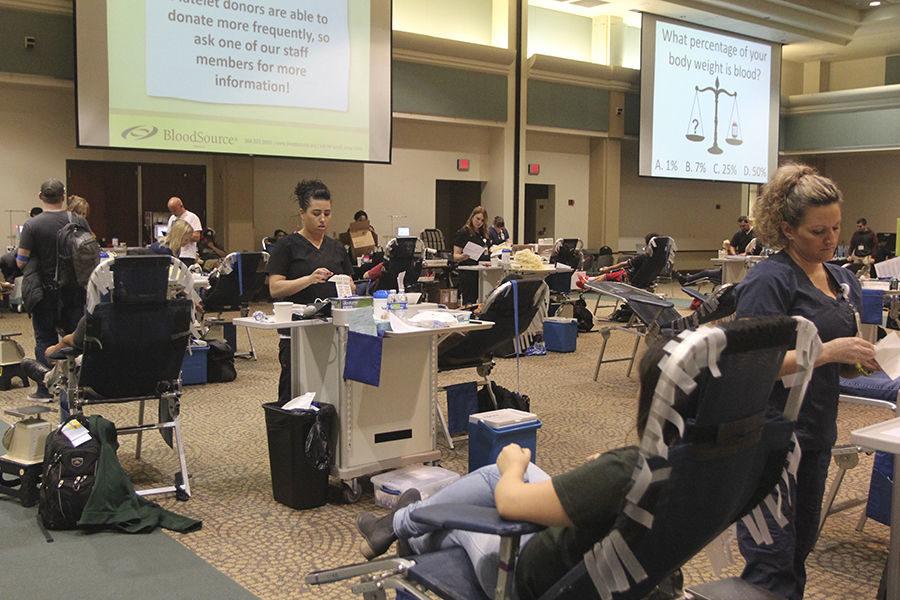 Sacramento State will be holding two blood drives sponsored by BloodSource on Tuesday, April 26 and Wednesday, April 27 in the University Union Ballroom.
BloodSource's Be the Match program will also be available to donors on both days. The program allows people to sign up and get matched with individuals in need of bone marrow. There are stricter restrictions to donating bone marrow than blood, which can be found on bloodsource.org.
BloodSource area account manager Ian Finch said they are expecting a big turnout for both drives at the end of the month.
"Our goal is to see about 475 people on the first day and 555 people on the second day, for a total of 1,030 participants," Finch said. "I think with our student directors and awesome partners here at Sac State, we should definitely hit that."
Sac State's previous two blood drives drew 892 combined blood donors, according to Finch. BloodSource will be looking for a 16 percent increase from that number this time around.
Finch said they have had tables in the Union for the past week and will have a table set up Monday through Friday 10:00 a.m. to 2:00 p.m. next week.
Madison Hall, ASI community service events coordinator and BloodSource student director, said she understands why people are scared to donate but to give it a try anyways.
"If I could give people two pieces of advice, the first would be to try donating if you never have. I think a lot of people overestimate how much it's going to hurt or how much blood they take," Hall said. "Give it one chance. The second piece of advice is that if you do intend to donate, it's so important that you eat a good meal and drink lots of water that day. It's not just something we say, it'll make you feel way better after donating."
Ronny Cobb, a post baccalaureate and psychology major, said he will donate and has donated for a special reason.
"As I have matured, I found that donating was a way to give back, as you never know when someone like yourself may need blood," Cobb said. "If it wasn't for donors, my mother and little brother may not be here today."
Cobb said he hopes the accessible location will be a major factor to getting a good turnout.
"Having the blood drive on campus is a nice bonus, as I live near Sac State, and the proximity and familiarity is always key to getting people to participate at an event," Cobb said.
Finch said donations from the blood drives are sent to over 40 hospitals in Northern and Central California. According to BloodSource, one in seven people who go to a hospital end up receiving some form of a blood transfusion and a blood transfusion happens every two seconds in the United States. Finch said one blood donation can save up to three lives.
The blood drives are sponsored by ASI, the Green Army, the Hornet Bookstore, the University Union and the Well.
Blood donors will receive a free BloodSource T-shirt after completion of their donation.
If people want more information, they can contact ASI at (916)-278-4241.