Beach volleyball drops both sets of doubleheader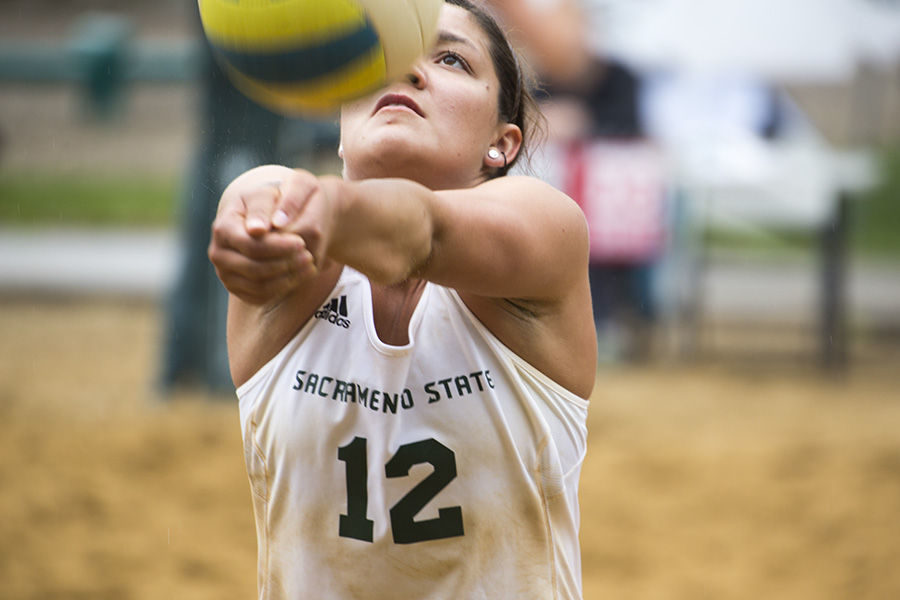 On a Saturday filled with light rain showers, the Sacramento State beach volleyball team dropped a pair of matches to CSU Bakersfield (3-12) and San Jose State (7-10) at Livermore Park in Folsom.
Sac State (1-15) lost both matches 3-2 on the second day of a three-day, five-team tournament. Of all 10 doubles matches the Hornets played, six of them went to the maximum three sets.
Sac State played its second and third matches of the tournament on Saturday after dropping the first match on Friday, a 5-0 shutout at the hands of New Mexico.
One positive that came out of the losses was the emergence of sophomore Lana Brown and junior Lexie Skalbeck as a doubles team, as they won both their matches at the No. 3. Brown and Skalbeck won their match against CSUB's Sophie Flemion and Kelsee Sawyer with scores of 21-16, 19-21 and 15-10. In their win against SJSU's Tyanna Roy and Lyndi Scholl, Brown and Skalbeck won 21-16, 19-21 and 15-11.
The other wins for Sac State came from the doubles teams of Kennedy Kurtz/Brigette Murdock and Sloan Lovett/Madeline Cannon. Kurtz and Murdock won in the No. 5 against CSUB's Ally Barber and Kayla Tinker in two sets (21-16, 21-18), while Lovett and Cannon won in the No. 1 against SJSU's Hana Tresnakova and Julia Menhart (21-18, 21-15).
Sac State plays its final match of the tournament on Sunday morning against Washington at 10 a.m.