For the love of the lake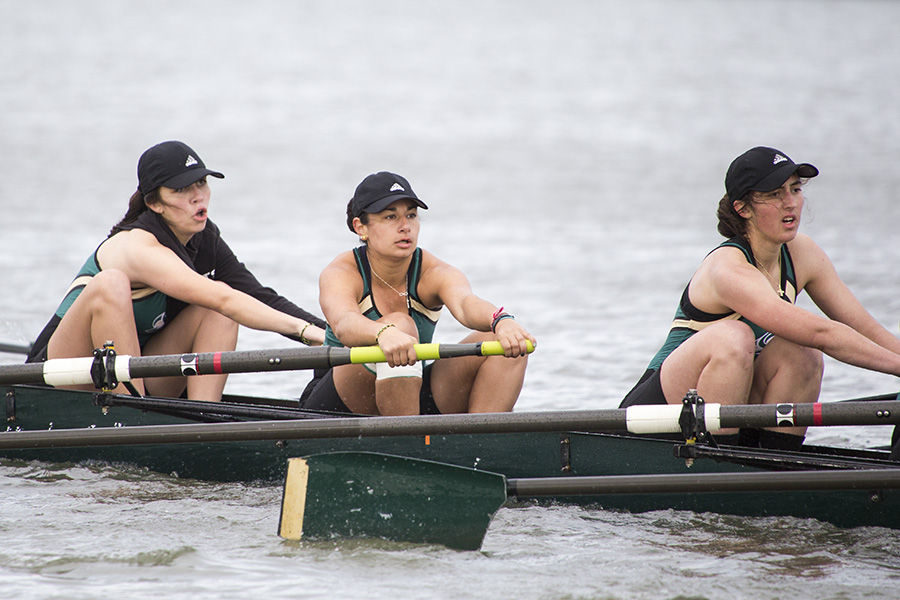 If you were to walk around campus, you would be hard-pressed to pick out a member of the Sacramento State women's rowing team from a crowd of students.
That's because the level of recognition rowing gets as a sport is small in comparison to basketball or football. Don't let the lack of recognition fool you. The women's rowing team at Sac State is full of passionate people who come from all walks of life.
The athletes on the team prepare as hard as those in any other sport; they also have possibly the earliest training schedule.
Junior Carli Preston, a starboarder on the first varsity eight team, was willing to share her schedule on a normal day.
"My personal alarm is set for 5:05 a.m.," Preston said. "I'm out the door by 5:30, and I'm at the practice facility around 5:50. The gates open at 6, and we're on the water for about an hour and a half."
Head coach Mike Connors, who has been with Sac State for 14 years, says that it may not be that people don't recognize rowing– they just don't understand it.
"A lot of people don't understand it," Connors said. "They don't understand how much work goes in. A lot of them watch it, and they think it looks easy. If you put them on a rowing machine, though, and ask them to go 500 meters as hard as they can, then they appreciate how hard it is."
Part of the reason that rowing may not get as much recognition as other sports is because it wasn't really considered an competitive sport until recently. It wasn't until 1997 that the NCAA added a rowing championship for women. As a result, a lot of prospective college athletes don't really find out about rowing unless the coaches do recruiting.
"Rowing, as an NCAA sport, has only been around since the mid-90's," Connors said, "so recruiting is getting more competitive and evolving with the maturity of the sport."
A byproduct of recruiting is that teams may get a few women who had some experience rowing in high school. However, because of the lack of suitable bodies of water in most parts of the country, a lot of the rowers on a majority of teams across the U.S. come into collegiate rowing with no prior experience.
Amber Anderson-Wells, a freshman port on the novice team, is one of those rowers. For Anderson-Wells, rowing was a new sport to her.
"I had no idea about rowing until my senior year of high school, to be honest," Anderson-Wells said. "All I knew about rowing is that it was a boat, and you moved it, but it's so much more."
However, since coming to Sac State, Anderson-Wells has grown to love rowing and is excited to be part of the team.
"It's amazing. I played basketball all four years of high school, so coming into a new sport, I was nervous," Anderson-Wells said. "But I love it. My love for it has grown so much with these girls, being a part of this sport … it's a great feeling winning races."
Anderson-Wells was a part of the novice eight/third varsity eight B team that placed third in the Sacramento State Rowing Invitational on Saturday, March 12, an event that saw the rowing team win five out of six races.
For experienced rowers like junior Jill Modean, a port on the first varsity eight team, watching newcomers come into the sport is thrilling.
"I love seeing all the new rowers come in. Rowing is different from any sport that people normally compete in as kids," Modean said. "We get girls that come in that have never rowed before. It's so fun to watch them win their first races, get through their first time trials. It's cool to see them fall in love with the sport."
Another reason that rowing isn't as noticed as other sports is the location. The rowing team practices and competes at the Sacramento State Aquatic Center at Lake Natoma, about 15 miles away from the campus.
For Preston, she can understand why people don't come out to events like they would for a more common sport like basketball.
"Because it's so far away, it's not like easy access like 'I'm going to the gym to watch the game tonight,'" Preston said. "I do wish people could come out and try it just once. I feel like everyone should get a chance to see exactly what rowing is because not a lot of people understand."
At the end of the day, however, Preston and the rest of the rowing team find joy in what they do, whether it is noticed or not.
"It's always cool to me when new people come out, and I'm like, 'This is what I do,'" Preston said.