Power of women celebrated in "The Vagina Monologues"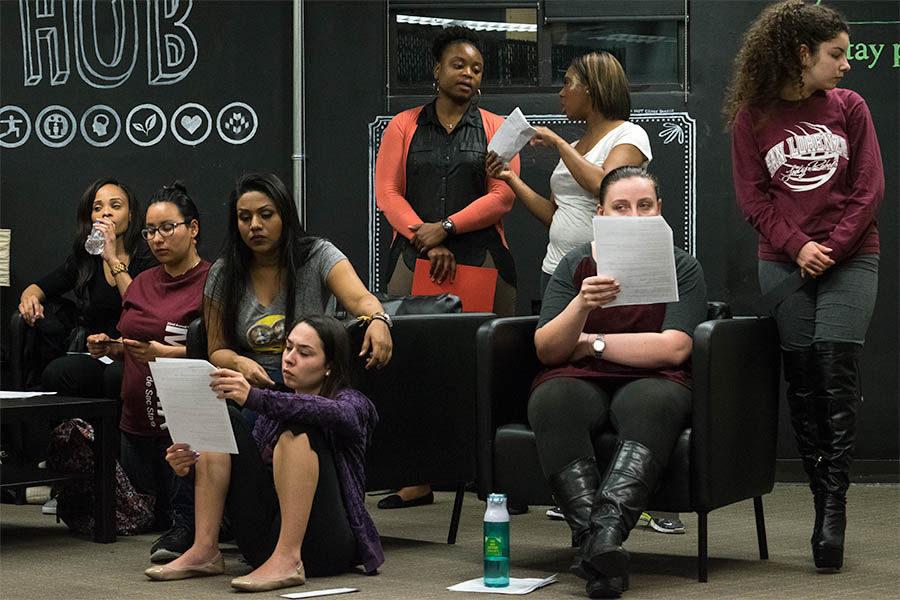 The Student Health and Counseling Services and UNIQUE Programs will be hosting the 2016 production of "The Vagina Monologues" at the University Union Ballroom on Thursday, Feb. 18.
"The Vagina Monologues" is a 1996 play written by American playwright, feminist and activist Eve Ensler to celebrate the power of women.
This year's production is co-directed by Jenna Wright, residence life coordinator for Draper Hall, and Melissa Muganzo, leasing and marketing manager at the Upper Eastside Lofts and a performer in the last four productions.
For Muganzo, the difference between acting and directing a show like "The Vagina Monologues" is in its different perspectives.
"Coordinating something, producing something, there are a lot of logistics that come with it, versus just being a part of it and memorizing your monologue and coming to the show," Muganzo said.
Every year the show does a campus-wide call-out to invite any "identified" female students to act in the show.
"Energy, energy, energy, energy," Muganzo said of what she looked for during auditions. "Just being someone who loves performing arts, and just loves that energy on stage, you look for someone who can capture the audience, so make sure that they have a good time because when you have energy, people are naturally drawn to you."
The audition process took Muganzo and her colleagues more than two days. In the end, they chose 36 actresses, both current and former students, to be a part of the show.
Wright and Muganzo are in charge of rehearsing with 13 performers each. During rehearsals, the co-directors coach every actress individually to perfect their monologues.
Angelique York, a Sac State alumna and one of this year's 36 performers, said she drew inspiration for her monologue from her own experiences.
"My mom is always speaking, basically, about different things the vagina goes through as a woman," York said. "And just basically being a part of something that is positive and something that's so huge, I think that's an honor."
Fellow performer D'Neise Robinson, junior social work major, returned for her third performance in "The Vagina Monologues."
"I feel like I relate a lot more to this monologue than I did with the other monologues," Robinson said. "It allows to have more emotions and to put my all into it."
Tickets can now be bought from UNIQUE Programs or at the doors on show night. All proceeds will go toward My Sister's House, a local non-profit organization that serves the Asian and Pacific Islander community and other women and children whose lives are impacted by domestic violence, sexual assault or human trafficking.
"We have a special treat," said Muganzo. "The introduction will be one to remember… It's the surprise for the audience."
The show will be open to the public on Thursday, Feb. 18 at 7:30 p.m.