Revisions were made in policies at the Faculty Senate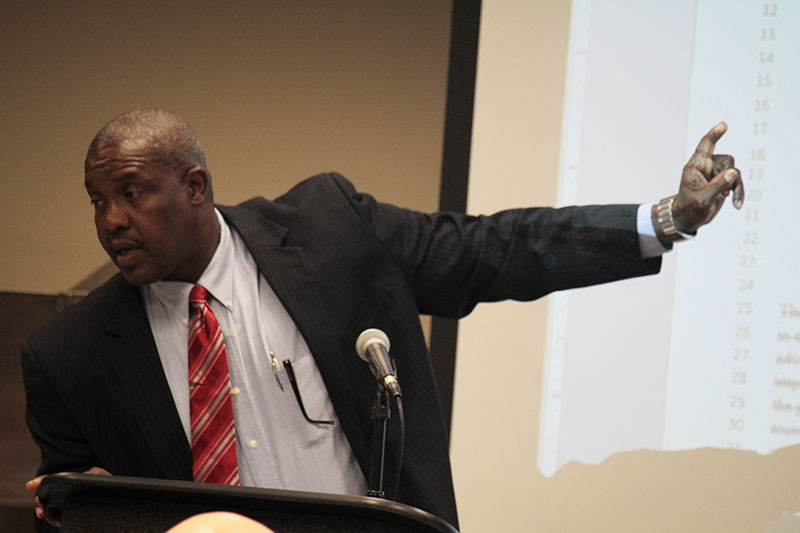 Major topics covered at Faculty Senate on Thursday, Dec. 3 included revisions to the academic internship, faculty office hours and academic repeat policies.
The Senate meeting ran for two hours, with only a brief break caused by a false fire alarm in the University Union. All faculty walked out of the room for the brief duration of the alarm and then promptly walked back in once it had turned off.
Dean Sorensen, director of the Union, said the alarm was set off when steam from cleaning a stove hood in the main kitchen touched the alarm sensor.
The Senate spent the majority of its meeting time discussing changes to the faculty office hours policy.
Katherine Pinch, a professor from Recreation, Park & Tourism Administration, worried that the new policy would leave faculty open to unreasonable demands from students.
"If you don't put the word reasonable in [the policy], there are some students who will expect me to be here 24/7," Pinch said. "I put myself out a great deal, and I expect [students] to do a little of the same."
Mathew Schmidtlein, a professor in the geography Department, addressed the concerns of faculty who worried that the new policy was too demanding.
"The purpose of this is not to require faculty to spend hours and hours and hours," Schmidtlein said. "The purpose is to merely say a faculty member should make a reasonable accommodation for students who cannot make their scheduled office hours."
Sue Escobar, a professor in the criminal justice department and chair of the Academic Policies Committee, gave a presentation on upcoming changes to the academic repeat policy to extend it to transfer students.
The policy currently states that students are only allowed to repeat a class three times and only if they received a grade lower than a C for that class.
"The only thing this addendum does… is to make it clear that the same policies apply to students who are transferring in units," said Sheree Meyer, dean of Undergraduate Studies.
Tucker Caruso, representing Associated Students, Inc., raised concerns about the policy change, saying it could have a negative effect on non-traditional students.
"I take huge issue with blocking students from enrolling elsewhere and creating red tape for them," Caruso said. "Maybe everyone here can think about that, and come ready for debate, because I'm ready to debate this."