Hornets win exhibition opener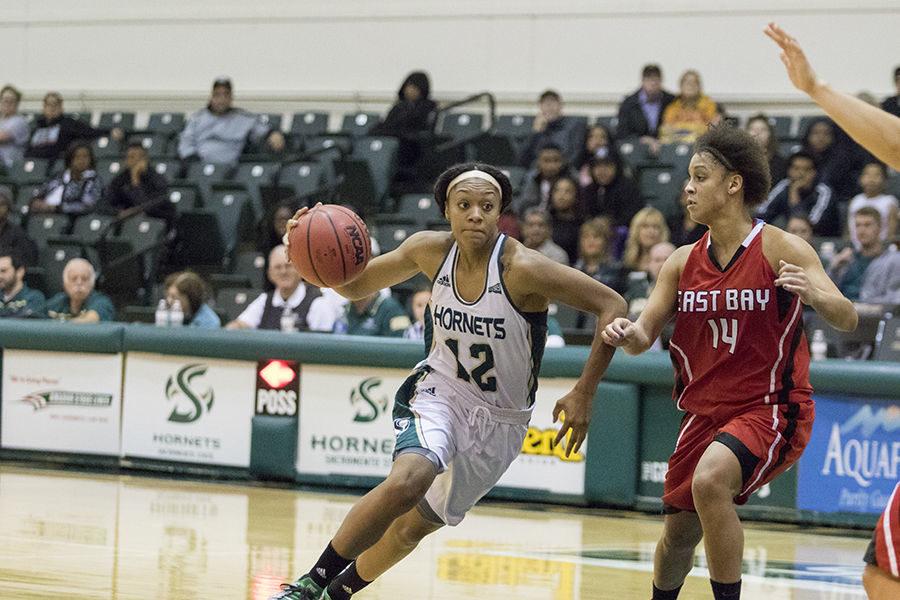 In the tuneup to the 2015-16 season, the Sacramento State women's basketball team looked to show its fans that last season wasn't a fluke.
On Sunday afternoon at the Hornets Nest, the Hornets started off sluggish, but would warm up in a 35-point second quarter en route to an 85-78 win over Cal State East Bay in their lone exhibition game of the season.
Sac State coach Bunky Harkleroad was optimistic about the team's opener, but also gave a lot of credit to his opponent.
"I thought it was a good experience for us," Harkleroad said. "I thought Cal State whipped us in a lot of ways physically; they showed they are a really tough team."
East Bay, despite being an NCAA Division II team, showed Sac State the Pioneers were no easy victory. In the first quarter, East Bay guard Laci Effenberger led her team with eight points on 3-of-5 shooting from the field as the Pioneers raced to a quick lead over Sac State 22-13. Sac State was 4-of-17 from the field.
In the second quarter, Sac State began to wake up on the offensive end. Sac State junior guard Ashlyn Crenshaw led the Hornets attack offensively, scoring nine points on 3-of-4 shooting from the three-point line. Fellow Sac State guard Adella Randle-El scored eight of her 13 first-half points in the quarter to go along with two steals, as the Hornets finished the first half on a 17-2 run. The Hornets went into halftime with a 48-34 lead.
Coming out of halftime, Sac State attacked more on the defensive end and pressed East Bay, only allowing 15 points on the quarter. Sac State was up as many as 22 points during the third quarter, as the Hornets went into the final quarter with a 66-49 lead.
East Bay was determined to give Sac State all it could physically, and in the fourth quarter it showed. Every time the Pioneers got the ball, they spread the floor, sometimes having a four-on-one offensive advantage. East Bay scored 29 points in the final quarter, but could not come up with an answer for Sac State's offense.
East Bay did have a rebounding edge against Sac State, however, out-rebounding the Hornets 53-33.
Sac State sophomore guard Maranne Johnson, who finished with 10 points in the game, said the game was a reminder on what the team needs to work on.
"Now that we realize a D-II team is killing us on the offensive glass, we need to work on that extra hard in practice this week," Johnson said.
Overall, East Bay had five players go into double-digits in scoring compared to Sac State's three. Crenshaw led all scorers in the game with 21, which would have been a career-high for her if the game was official.
Crenshaw gave her team the spotlight when asked about her offensive output.
"I just played for my team," Crenshaw said. "I think I did well, but none of that happens without the team play. My team has me and I have my team."
Sac State will suit up for the first official game of the 2015-16 season on Saturday, Nov. 14, when the team travels to Utah State.