Hornets need help after 2-0 road loss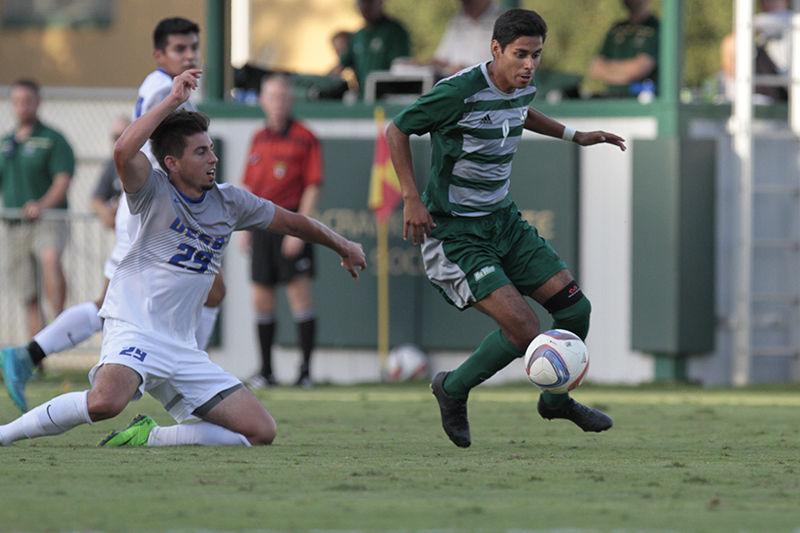 CORRECTION: An earlier version of this story stated that the Hornets' upcoming game against UC Davis would be held at 2 p.m. on Wednesday. The game is actually scheduled for 3 p.m. on Saturday.
---
With the season dwindling down, the Sacramento State men's soccer team will need some major assistance if they plan on making it to the Big West Conference Tournament.
Two early first half goals by Cal Poly San Luis Obispo (9-3-3, 4-1-2 in Big West) put the Hornets (5-8-2, 2-4-1 in Big West) at a disadvantage, and Sac State wasn't able to keep up as they lost 2-0 in a key match Wednesday night in San Luis Obispo.
Sac State coach Michael Linenberger was blunt in his assessment of his team after Wednesday's game.
"I thought we came out flat," Linenberger said. "Cal Poly jumped on us early."
In the 15th minute, Cal Poly midfielder Chase Minter sent a pass on the right side to forward Justin Dhillon, who scored his second goal of the season to give the Mustangs an early lead.
Six minutes later, the Hornets' defensive lapses would catch up to them again. Mustangs defender Bjorn Sandberg took a pass from Minter and placed a header right in the goal mouth to increase Cal Poly's lead to 2-0.
Sac State put three shots on goal in the first half, but none of them connected.
Cal Poly goalkeeper Wade Hamilton turned in a solid performance with five saves in the match, recording his sixth shutout of the season. Besides the two goals, Sac State goalkeeper James Del Curto had seven saves in the match.
With three games left in the season, Sac State will need to turn in a flawless performance the rest of the season. Currently fourth in the Big West North division with seven points, they'll get one last shot at Cal Poly at Hornet Field on Oct. 31, but before then they have two tough matchups.
"We no longer control our own destiny," Linenberger said. "But if we can win these last couple of games and get some help, we can still make it to the tournament."
Sac State got a huge assist from their next opponent, UC Davis. On Wednesday, third-place UC Davis (7-7-2, 3-2-2 in Big West) lost to first-place UC Santa Barbara (10-5-1, 5-2-0 in Big West) 2-1. If Sac State plans on making the tournament, they'll need to have a better gameplan against UC Davis, whom they tied with 1-1 on Saturday, Oct. 17.
"Davis is a really dangerous team," Linenberger said. "If we can do a better job of defending their point set, we stand a chance at winning. From there, we just need to keep winning."
Sac State and UC Davis will lace up next at 3 p.m. Saturday at Hornet Field.