Hornets look to shake off three-game losing streak this weekend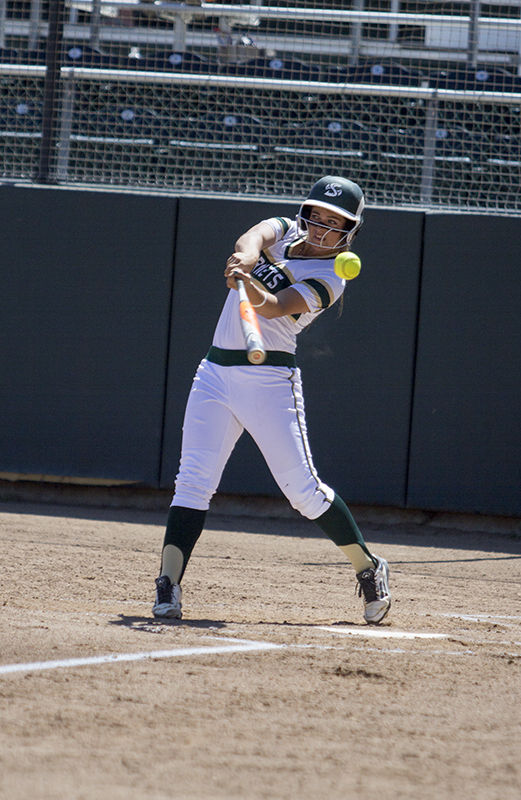 State Hornet Staff
April 23, 2015
Sacramento State softball dropped to third place in the Big Sky Conference after the Idaho State University Bengals swept the Hornets this past weekend at home.
Going into the three-game series, the women knew it was a big weekend for them because both teams were tied for first place in conference with a 10-2 Big Sky record.
"It's a dogfight with Idaho State [and] it's our rivalry in this conference, I think we came out almost too excited and too amped up," said center fielder Alexa Chattleton. "Everyone's heartbeat was just racing and I think we needed to be a little calmer."
Caitlin Brooks pitched a complete game on Friday and stayed strong until the ninth inning. In the ninth, she issued two walks and seven hits that led the Bengals to score seven runs.
"I was just trying to come in to take the first game and come out solid and give my team an opportunity to score runs," Brooks said after the game.
Brooks' ERA for the season is 3.12 through 18 appearances. In Friday's game she gave up a total of 10 hits, seven runs, of which three were earned, and six walks.
The team totaled four errors in the first game.
On Saturday, she pitched all seven innings and gave up nine hits, seven earned runs and four walks in the contest. Brooks gave up a three-run home run in the first inning, followed by two more runs in the second inning and a run in both the sixth and seventh inning.
"I knew if we took two we would be in first place, which was really important to us because we wanted to host ultimately," Brooks said.
Celina Matthias pitched five innings in the second game on Friday, and Kaitlyn Yerby relieved Matthias in the fifth inning, pitching the rest of the game. Matthias surrendered nine hits and seven earned runs.
In the fifth inning, Yerby walked one batter and gave up two runs after the Bengals singled to center field and got two RBIs.
Chattleton said that the excitement of the game might have got the best of the team, who therefore did not play like they usually do.
"We wanted to win these games so bad, and I think a lot of people were just pressing, and not staying within themselves defensively; we just needed to be more calm and collective," Chattleton said.
The Hornets had better hitting during their sweep of the University of North Dakota a week earlier than they did against Idaho State.
Sac State managed just three hits in the first game Friday, coming from Zamari Hinton with a single and a double, followed by a double from Sasha Margulies.
In the second game on Friday, designated hitter Shelby Johnston went 2-for-3 with a two-run single, Chattleton and pinch-hitter Paige Castro each had a double and Paige Martin had a single.
In the series' final game, Johnston hit a double and Margulies and Chattleton each had an RBI in the third inning, their only time scoring in the game.
Knowing this was an important series, the Hornets tried to take it as any other team and play their game.
"We try to take every game the same way," said Sac State coach Lori Perez. "We need to have strong pitching, shutdown defense and quality at-bats."
Perez said they did not change much up for this series in terms of adjustments. They prepared by playing the University of the Pacific on Wednesday, as they have a similar team to Idaho State.
"I think there is always going to be pressure in these situations," Perez said after Friday's doubleheader. "I don't think they put extra pressure on them. I think they were excited about it and had a lot of energy and excitement for it and just wanting it."
Sac State lost to Pacific 5-0 last Wednesday and carried that over to this past weekend, losing all three games at home.
After losing both games on Friday, the team knew they had been knocked out of the top spot, but with six more regular conference games to go, they can still come back and potentially take first place.
"There are six games left; we are going to continue to focus on trying to win every single ballgame and put those three pieces of the game together—pitching, defense and hitting together—and work on the process of the game," Perez said.
Sac State will host second-place Weber State in the Hornets' final home series of the season at Shea Stadium, which starts Friday with a doubleheader, followed by one game on Saturday.