Men's basketball falls 69-65 at Southern Utah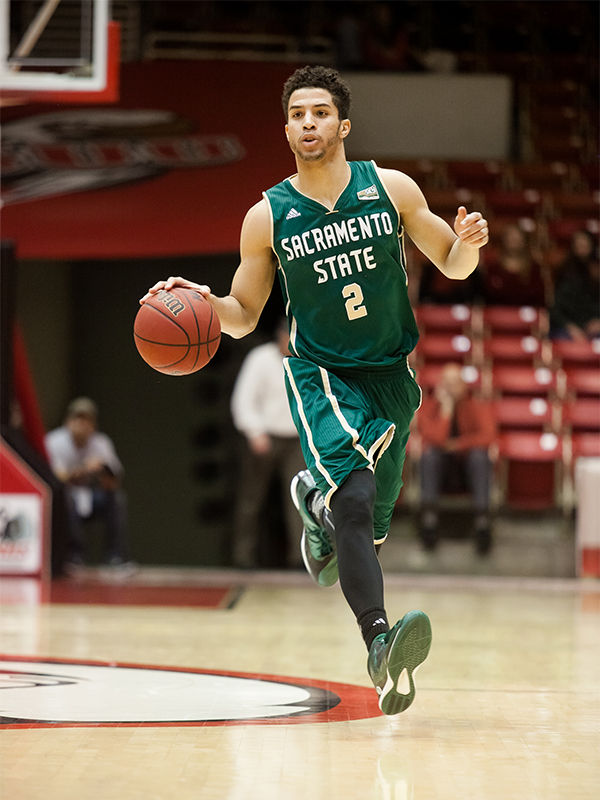 State Hornet Staff
March 5, 2015
With an opportunity for the Hornets to clinch first place in the Big Sky Conference, Sacramento State men's basketball (13-4, Big Sky) lost Thursday's road game at Southern Utah University (7-10, Big Sky) by a final score of 69-65.
A victory would have given Sac State the Big Sky regular season title, but the Hornets could not put away the Thunderbirds. Sac State now stands tied with Eastern Washington University and University of Montana for first place in the conference, as all three teams own a 13-4 league record.
"I thought they played really well, Southern Utah," said Sac State coach Brian Katz. "Typical fist fight in the Big Sky, always tough. I thought both teams really competed and they played a little bit better."
Though a win would have secured the Hornets the No. 1 seed and home-court advantage in the Big Sky Conference Tournament, including the right to host the three-day event from The WELL on campus, Sac State will get another chance to finish 2014-15 in first place if they can win their final regular-season game Saturday at Northern Arizona University.
Sac State took a 17-9 lead after 10 minutes of play in the first half, but went into halftime trailing 37-36 as Southern Utah made six 3-pointers before the break.
The Hornets shot 23 of 48 (47.9 percent) from the field for the game, making just two of eight (25 percent) from behind the arc. The Thunderbirds made nine of 19 (47.4 percent) attempted 3-pointers and shot 25 of 46 (54.3 percent) from the floor. Both teams ended with 27 rebounds.
Southern Utah led by as many as seven points, possessing a 49-42 advantage at the 16:04 mark in the second half, but the Hornets pulled back in front with a 56-55 lead with 9:46 left in the game.
After this point, neither team led by more than three points until the waning seconds of the game.
The Hornets had the ball and a three-point deficit with 33 seconds on the clock, but a missed 3-pointer by senior guard Mikh McKinney at the 16-second mark fell into the hands of Southern Utah's Casey Oliverson.
Sac State was forced to foul with nine seconds left, sending Southern Utah's John Marshall to the line. Marshall split the pair of free throws, but the four-point advantage stood as the Thunderbirds sealed the game at 69-65.
Sac State received strong performances from guards McKinney and Cody Demps. McKinney scored a team-high 19 points, making six of 14 shots from the floor while pulling in four rebounds in 37 minutes played. Demps tallied 16 points on six-of-eight shooting and also spent 37 minutes on the floor.
The Hornets had just seven assists for the game, of which Demps delivered four. Sac State turned the ball over six times while the Thunderbirds committed nine turnovers.
Because the Hornets own potential tiebreakers against each of Eastern Washington, Montana and Northern Arizona—including tiebreakers in the event of a three- or four-way tie—the Hornets could also clinch first place with Saturday losses by both Eastern Washington and Montana.
If Sac State loses on Saturday, Eastern Washington would secure first place and tournament-hosting privileges with a victory at Weber State. Montana would need a road win over Montana State as well as losses by the Hornets and Eastern Washington to clinch the top seed.
Katz said his players cannot dwell on Thursday's road loss.
"We're bounced back already," Katz said. "We're ready to go. We don't have time for worrying about this one. We've got another game in about 36 hours, so we've got to go."
Sac State will conclude the Big Sky regular season with a 1:05 p.m. tip-off Saturday at Northern Arizona. Saturday's conference action will decide the winner and hosting university for the league tournament, which will be held March 12-14.