Gymnastics team gears up for last half of 2015 season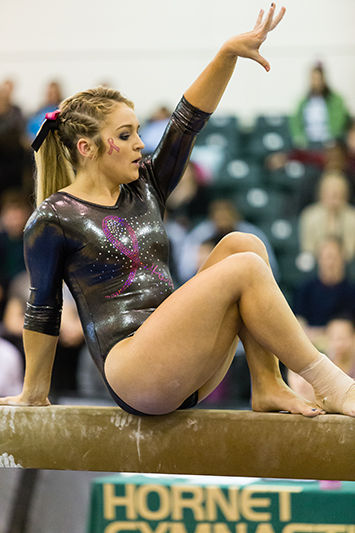 More than halfway through the season, the Sacramento State gymnastics team is hoping to repeat as conference champions in the Mountain Pacific Sports Federation and qualify for NCAA Women's Gymnastics Regionals.
The Hornets started off the season strong, averaging a score of 193.993 in their first four meets. The next four didn't go as expected, with repeated falls on the beam and what resulted in their lowest score of the season (192.850) against rival San Jose State.
With only three meets left, the Hornets look to improve to win their conference. Coach Kim Hughes, the squad's head coach for the past 34 years, is pleased with the team's progress this season but knows the gymnasts have room to improve.
"On vault it is, I'd say it would be a consistency with good landings; bars we have to improve on our form and hitting hand stand positions and dismount landings; beam is staying on; and floor is mostly our performance, to show off their routines well," Hughes said.
Coming into the season, the Hornets were enthusiastic and looking forward to qualifying for regionals as a team. Junior Alyssa Anderson, who competes on the beam, uneven bars and vault, said she was thrilled for the season to start.
"I help cheer everyone on and I just support them, just believe in them so that way if they don't believe in themselves, I'm there backing them up, giving them confidence," Anderson said.
Anderson added that she is proud of her work on the beam. This season, she is averaging a 9.428 on beam and has a season-high and personal-best score of a 9.800, which she set Jan. 9 at Sac State against UC Berkeley.
One strength the Hornets have this season is great team energy and high morale. Senior Dallas Smith, who competes on beam and floor, is enjoying her last season at Sac State.
"Overall it's been a lot of fun," Smith said. "It's definitely the best team I have ever been a part of, in terms of the camaraderie, and the way that we all work together has been really, really good, so that's really fun."
Smith is content with her performance this season, with season-high scores of 9.650 on beam and 9.850 on floor, and thinks the team is good but can improve on detail.
"I am actually really happy with how I am doing, so I think it's just kind of keeping that consistency and just improving on beam," Smith said. "We have so much talent and so many good aspects about the team, it's just those little details, being able to hit a routine no matter what, those are the things that are going to help us hit those scores that we have been wanting all season."
Sac State's gymnastics team has hit some bumps in the road, which they believe has made them stronger.
"We've had our ups and downs but we never let it faze us," Smith said. "We have a lot of fun in the gym and everyone is really willing to come into practice and make changes no matter what those changes are. I'm just proud of how we act."
This season, the team has had one first-place finish against rival UC Davis, and four second-place finishes. Currently, the Hornets' average team score is 193.766.
Another event the team is looking forward to is the senior meet, which is the last meet in the Hornets Nest for the seniors. The meet will take place at 2 p.m. on March 15.
"I am looking forward to senior meet, you know that last time being in The Nest will be so fun, so emotional, but [I'm] definitely looking forward to that," she said.
With a couple of mishaps and only three season meets left, the Hornets are determined to repeat as conference champions. Coming off one of their highest scores of the season on Feb. 21 at a quad meet at UCLA with a score of 194.150 and posting the exact same score Friday at UC Davis, they look to improve from there.
"They are determined to still make this season work and they have hardworking attitudes," Hughes said.
The team's next meet will be at San Jose State where they will compete against three teams at 2 p.m. on March 8.