Basketball crushes Eastern Washington 84-49 in WNIT second round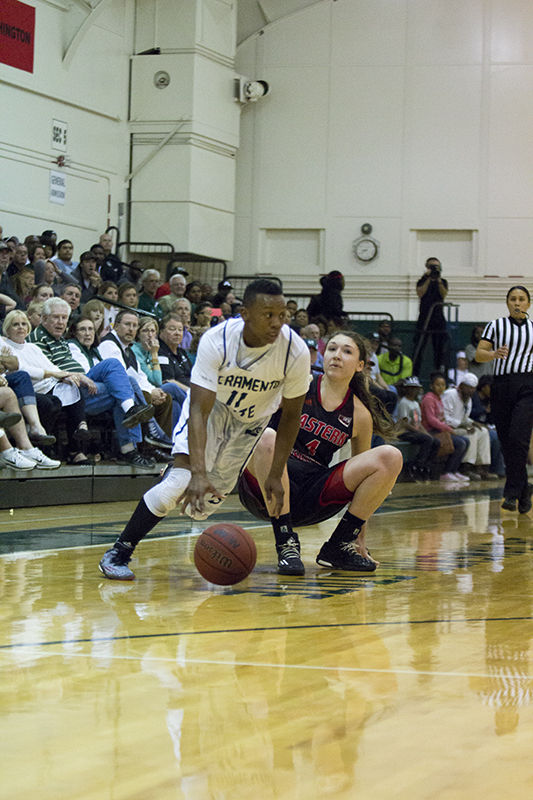 State Hornet Staff
March 24, 2015
For the first time in program history, Sacramento State women's basketball has moved on to the third round of the Women's National Invitation Tournament after beating Eastern Washington University on Monday, 84-49.
"I think everyone stepped up, everyone always steps up," said senior Andrea Chenier. "It is never one superstar. It's always someone's night every night."
Chenier spoke about her postseason goals.
"We want to do something big this year, I know we slipped up and lost in the main tournament so we want to get something in this NIT tournament," Chenier said.
The Hornets came out strong and kept up great play throughout the game against EWU.
Sac State finished the game with a total of 22 steals, 6 blocks and 51 rebounds. Eastern Washington tallied up 8 steals, 5 blocks and 34 rebounds.
The game started off with Gretchen Harrigan making a jumper, scoring the first points for the Hornets. Melissa Williams of Eastern Washington quickly responded with a jumper of her own, tying the game.
Eastern Washington's Jade Redmon scored a layup that put EWU in the lead 4-2. Their only lead of the game lasted 1 minute, 11 seconds. It ended when Sac State's Adella Randle-El shot a 2-pointer and tied up the game for the second time.
With 14:36 left in the first half, sophomore forward Margaret Huntington scored a 3-pointer taking the lead back for Sac State. The sophomore played a great first half, leading in points scored with Randle-El as both had nine points. In 11 minutes played in the first half, Huntington managed five rebounds and three steals.
"I feel really good about it," Huntington said. "I think we just all really played hard tonight. We knew this could be our last game of the season and I think that's what drove me to play as hard as I did."
For the remainder of the first half the Hornets led. The women entered halftime with a 10-point advantage with the score of 38-28.
The Hornets closed the first half with a field goal percentage of 36.4 percent (12-33) and a 3-point field goal percentage of 25 (4-16). Eastern Washington had a stronger field goal percentage of 40.6 percent (13-42). EWU only made one of nine 3-point shots with an 11.1 3-point field goal percentage.
In the second half, the Hornets dominated, only allowing Eastern Washington to score 21 points in the final half of the game as the women did not let EWU take the lead back the remainder of the contest.
Sac State improved their field goal percentage from the first half to 54.5 percent and their 3-point field goal percentage bettered to 38.5 percent. In the second half the Hornets scored a total of 46 points, a whopping 25 points more than EWU.
Eastern Washington made only five of 21 field goal attempts in the second half. Their field goal percentage dropped to 23.8 percent. Making two of five 3-point shots, EWU had an improved 3-point field goal percentage of 40 percent.
EWU went without scoring for the first 3:38 of the second period.
Senior Takara Burse played a phenomenal second half scoring 17 points for Sac State. Burse concluded the game leading in points scored for the team. Burse had four rebounds and one assist.
"The first half I was silent, I didn't really do much," Burse said. "Overall as a team we came together and we just fired each other up, we said that we were going to go out there and do it. The second half I kinda of just fed off of my team energy and turned it around; I gave energy, they gave energy."
Other leaders for Sac State were Huntington, who finished out the game with 11 points and 11 rebounds; Maranne Johnson with 12 points and five rebounds; and Randle-El with nine points and four rebounds.
"It feels great, seeing that the four years that I've been here previously we haven't extended our season past conference, so it is a great feeling to be playing with the group of girls we have," said Burse in regards to playing for the first time in the WNIT.
The Hornets will host Thursday night's game against Saint Mary's College at 7 p.m. on March 26 at the Hornets Nest.