Sac State baseball wins first game of the season against Utah, 10-3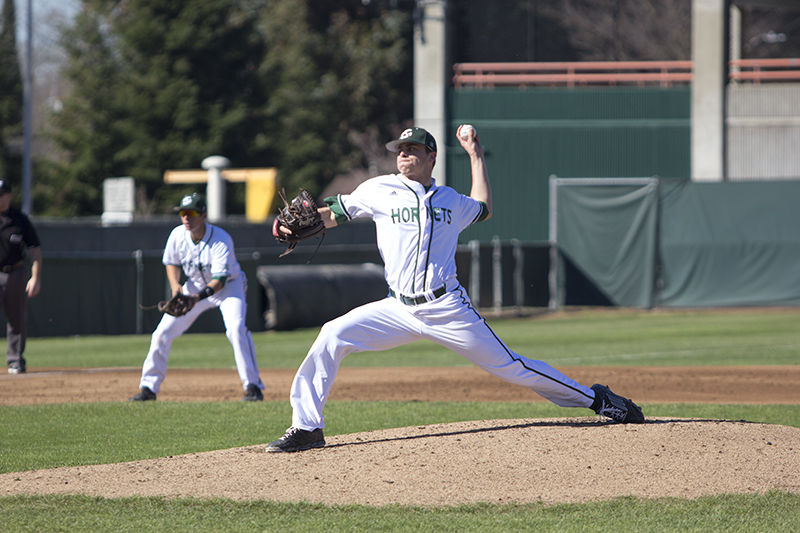 Kevin L. Shepherd
February 14, 2015
The Sacramento State baseball team used a complete offensive attack and a strong start from starting pitcher Sam Long to beat the visiting University of Utah Utes 10-3 Saturday, Feb. 14.
Long pitched five scoreless innings, settling down after walking the first batter of the game to pick up the win.
"I had some butterflies initially, with it being my first start of the year," Long said. "Once I got my change-up established, it settled me down, and I was able to takeoff from there."
Freshman Vinny Esposito had three hits, including a third-inning solo home run, and three total RBIs to pace a balanced Hornets' offensive attack.
"I saw a good pitch," Esposito said. "I just swung and didn't want to miss it. You never fully know that you got all of it. I took off around the bases and didn't slow down until I saw it go over the fence."
The win pushed the Hornets to 1-1 on the season after dropping Friday's opener.
"It felt good to get the first win of the season," said Sac State coach Reggie Christiansen. "We have a lot of young players, and us getting this first win can help some of the guys relax and just focus on baseball."
For the Utes, pitcher Brock Duke pitched four innings and gave up five earned runs to take the loss.
The loss drops the visiting Utes to 1-1 on the season. Dallas Carroll led the Utes with two hits and two RBIs.
Nathan Lukes and Chris Lewis had two hits apiece for a Hornets team that had 10 total hits a day after posting 11 in the opener.
Sac State got the scoring going early with two runs in the first inning. After leadoff hitter Scotty Burcham walked and Esposito singled, Devin Lehman sacrifice bunted both men over, and cleanup hitter Nathan Lukes drove both men in to stake the Hornets to a 2-0 lead.
The Hornets added two more runs in the fourth inning with an RBI single from Dan Deely, followed by a sacrifice fly by Burcham.
Three walks and a stolen base contributed to a five-run fifth inning by the Hornets, which pushed the lead to 10-0. The big blows in the inning were an RBI single by Brandon Hunley and an RBI bunt single by Gunner Pollman.
"I like our lineup one through nine," Christiansen said. "Today, we had Vinny Esposito have a big day, tomorrow it may be someone else. We feel this is as complete of a lineup we have had since I have been here."
The Utes got their first two runs in the sixth inning off of Hornets' reliever Austin Root with an RBI single from Carroll and, later in the inning, a sacrifice fly from Hunter Simmons.
Jared Paderez pitched the final two frames for the Hornets, giving up one earned run.
Game three of the series is at 1 p.m. Sunday. It will feature the Hornets' senior starting pitcher Ty Nichols, facing Utah freshman Jayson Rose.