Nickelodeon star brings the '90s back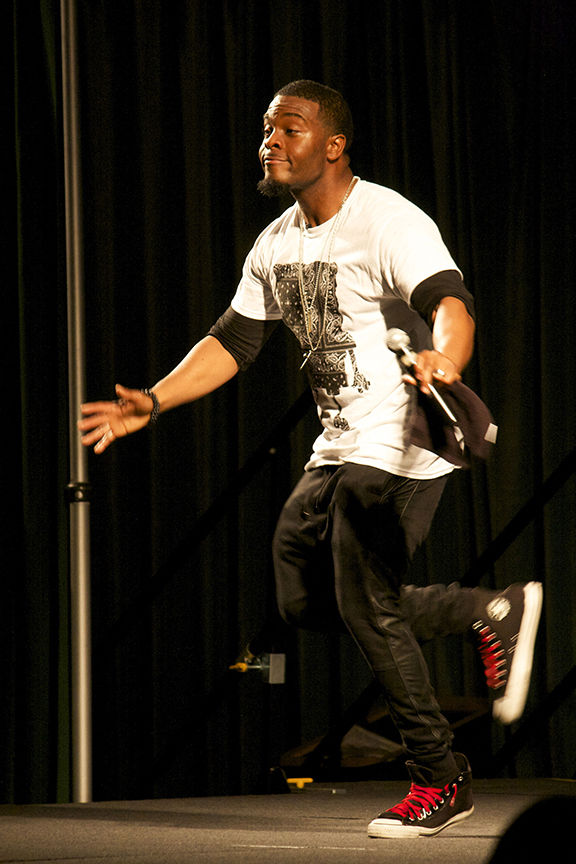 State Hornet Staff
February 10, 2015
Kel Mitchell returns to the public's radar with dance, song, and stand-up comedy, catching up fans with what's been going on since his run on Nickelodeon ended.
The '90s: a time of overalls, Tamagotchis, and iconic television shows on Nickelodeon such as "Rugrats," "Doug," and "Hey Arnold!" Now almost two decades later, most children who grew up during this era are in college.
With nostalgia in the air on the evening of Thursday, Feb. 5, Nickelodeon alumnus, Kel Mitchell took the stage in the Sacramento State University Union.
"I was really nervous for him, before he came on stage," said Sac State junior Sakai Gibson when asked about her initial reaction in finding out about Mitchell's performance at the university. "I thought that either the show was going to be a huge success or end in a complete failure."
Mitchell starred alongside Kenan Thompson (Saturday Night Live) on the sitcom, "Kenan and Kel" and the sketch comedy show "All That." The pair are remembered for playing memorable characters on both shows and even landing a major movie based on their "All That: 'Good Burger'" sketch.
After their time at Nickelodeon was over, the two began to live vastly different lives. Though both auditioned for cast member positions on Saturday Night Live, Thompson received a part and Mitchell did not.
While largely under the radar, Mitchell is back on the road touring across festivals, conventions and universities coming back to relevancy.
On Thursday, the University Union Ballroom was packed and the crowd buzzed as they grabbed seats for an hour and 15 minute flight back to their childhood.
After much anticipation, Mitchell sprang into excited action, interacting with the crowd with enthusiastic behavior.
Running through the crowd shouting out "Sup!" and letting everyone know to "post this on Snapchat," Mitchell was determined to show the fans a good time.
The powerful fan reaction proved that, regardless of the lack of relevancy, as long as a performer provides an audience with excitement throughout a show, theydemonstrate how they excel as a showman.
Especially after a 15-minute dance party introduction fueled by '90s-centric R&B tunes such as Bel Biv DeVoe's "Poison" and Montell Jordan's "This Is How We Do It", along with occasional cries of "Kel yeah!"
After the dance party introduction, the comedy portion of the show finally started, covering topics such as: catch phrases, alcoholism, sober life, chivalry and fighting temptation by "imagining Jesus is always with me."
While unfolding his major life events through humor, at certain moments Mitchell proved that he is much more than a comedian, he demonstrated that being under the radar does not mean his life has been uneventful during his lack of public attention.
After his stand-up performance, Mitchell continued to entertain the fans further by having a Q-and-A session. Some of the highlights include: Giving a couple autographed orange soda bottles to audience members, singing "Happy Birthday" to a young 8-year-old admirer, and letting the crowd know that he is coming back to Nickelodeon this year.
When asked about a possible "Kenan and Kel" reunion, Mitchell responded, "[It] would be cool, as long as the fans want it, it could happen."
He also snapped photos with a long line of fans ready to converse about orange soda and Ed from "Good Burger."
All with a smile on his face, Mitchell proved that any former celebrity outside of the spotlight has the ability to bounce back into relevancy with enthusiasm.