Men's tennis drops its third consecutive match in 6-1 loss to UOP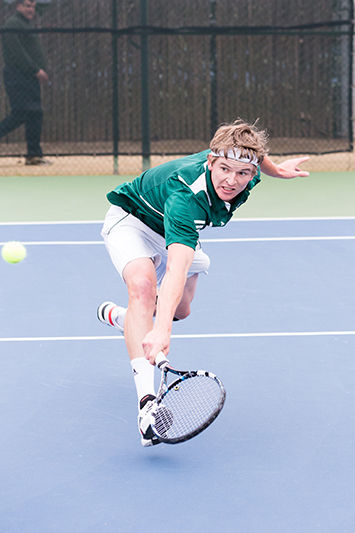 State Hornet Staff
February 21, 2015
Sacramento State men's tennis was unable to come out ahead in a highly contested battle against the University of Pacific, losing 6-1.
Despite Pacific's 1-8 record heading into the match, the Hornets didn't take their opponents lightly having had close matches over the past few seasons with them.
"It gives us a kick to practice harder," Miller said. "We got five days of hard practice for Weber on Friday."
With senior Marek Marksoo still out with an injury, the Hornets continued to shuffle their doubles pairings around. Junior Sean Kolar and Ninranjan Ram played as the number ones, Tom Miller and Roy Brandys in the two spot and Ayman Abdulwahab and Kasparas Zemaitelis were in position three.
Pacific made quick work of Sac State in doubles, with the No. 1 and No. 2 losing their sets 6-2, 6-1 respectively. Zemaitelis and Abdulwahab did not finish their match and were down 3-4 before Pacific took the doubles point.
"We struggled with serves and returns," Brandys said. "They were just better than us today."
Singles were a different story as each match was competitive and heavily contested. Abdulwahab was the standout in singles as the No. 5 player for the Hornets scoring the only match point. He ended up winning by default, 6-7, 6-5 before the match was called.
"Ayman had a great start in his first set," coach Kevin Kurtz said.
Senior captain Miller had one of his stronger performances in singles this year despite losing 2-6, 6-3, 8-10 to Bernado Oliveira. He fought back to win the second set and was close to taking the match down.
"I started slow, but worked up to top off my game by end of the match," Miller said. "I was pleased how I played overall."
Brandys was one of the few Hornets to take a set today in singles, but ultimately could not hang on and lost 5-7, 6-3, 10-7 to Sem Verbeek.
Kolar lost 4-6, 4-6 to Miguel Diaz. Diaz and Kolar fought for every point, with several long rallies happening over the course of the match.
Zemaitelis was not able to get anything going today as the No. 4 singles player and lost his match in straight sets to Jose Chamba, 3-6, 3-6.
Ram had an opportunity to win the first set, but ultimately lost in straight sets 5-7, 2-6 to Alex Hamilton as the number three player on the day.
Sac State will continue its season on Friday against Weber State at 1 p.m. on the university's tennis courts instead of the Rio Del Oro Racquet Club.