Garrity and McKinney fuel men's basketball's 75-59 win over Montana State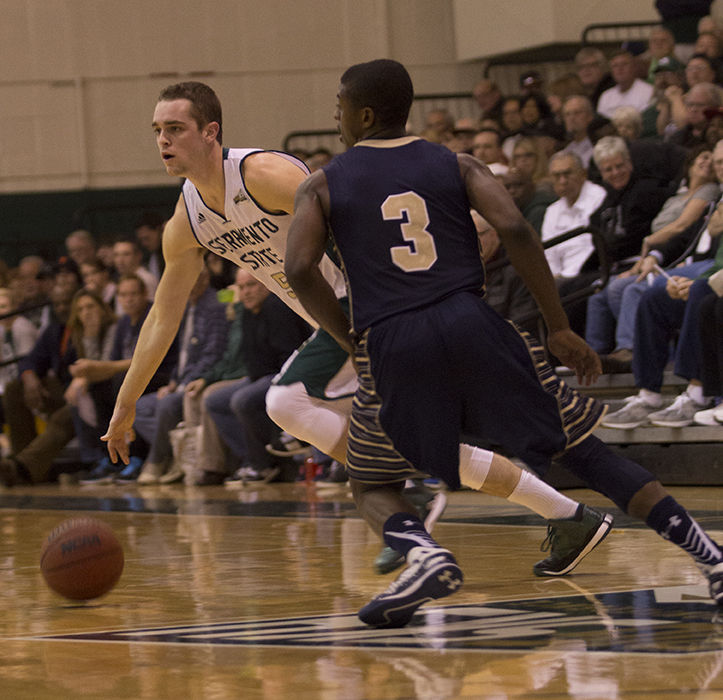 Mike McGough
January 30, 2015
Seniors Dylan Garrity and Mikh McKinney helped the Sacramento State men's basketball team continue its best-ever beginning to the Big Sky Conference season Thursday night, as the Hornets improved to an 8-1 conference record with a 75-59 victory over Montana State at a sold-out Hornets' Nest.
Sac State coach Brian Katz spoke on his team's victory over the Montana State Bobcats, who entered the game with a record of 1-6 in the Big Sky.
"We're going to get everybody's 'A' game," Katz said. "I told the guys 'Montana State's talented.'"
Garrity set a Sac State record with the win, recording his 502nd career assist with a pass to senior Zach Mills, who drained a 3-pointer.
"It's a great honor," Garrity said. "That's something that I take pride in; I have my whole entire life, always getting my teammates involved. That's what I'm most comfortable doing."
Garrity added, however, that winning games is more important than breaking records.
The guard had five assists along with his 18 points for the night, and now stands at 504 assists for his career. The senior shot six of 10 from the field, including four of eight from behind the arc in 31 minutes played.
"He's an unbelievable human being," Katz said. "I track our improvement to when he came here four years ago."
Senior guard Mikh McKinney had an even bigger night for the Hornets, posting a game-best 23 points and eight assists in 38 minutes played. McKinney also led both teams with five steals.
The Hornets have won five straight.
"It feels good tonight," McKinney said. "Like we always say though, I've been here for three years now, and I've seen teams go from the top to the bottom, you know, real fast. So, I mean, it'll feel good tonight, you know. Enjoy the win tonight and then tomorrow's just back to work, and we've got to focus up on the next game."
The Bobcats, who entered Thursday's contest with a 4-15 record overall, put up a good fight for most of the game. Montana State trailed 36-33 at halftime and tied the game at 44 with 13:41 left to play on a layup by Marcus Colbert.
But the Hornets surged back, mounting a 29-11 run to give Sac State a 73-55 lead with 1:24 left in the game.
"I always say every night in this league's a fist fight," Katz said. "There's no knockouts. And I thought we were playing a little bit hurried in the first half, and then I thought we calmed down after that. [The] second half kind of solidified things."
Sac State struggled in the rebound game in the first half, reeling in 16 rebounds and just two on offense while Montana State managed 21 rebounds. But the Hornets out rebounded Montana State by a 16-14 margin in the second half.
"We can not play well in one half, and we can come back in the second half, calm down, relax, and just buckle down on defense, get stops and then get good shots on the other end," Garrity said. "I think that has a lot to do with our leadership."
The Hornets made 28 of 54 (51.9 percent) of their attempted field goals while holding the Bobcats to 21 of 56 (37.5 percent).
"We're in a good spot," Katz said. "The only way we'd be in a better spot is if we were undefeated, and we're not undefeated."
Sac State will host the University of Montana Grizzlies (7-1 in Big Sky) at 7:05 p.m. Saturday in The Nest. The game will represent a battle for first place in the Big Sky.