Food trucks on campus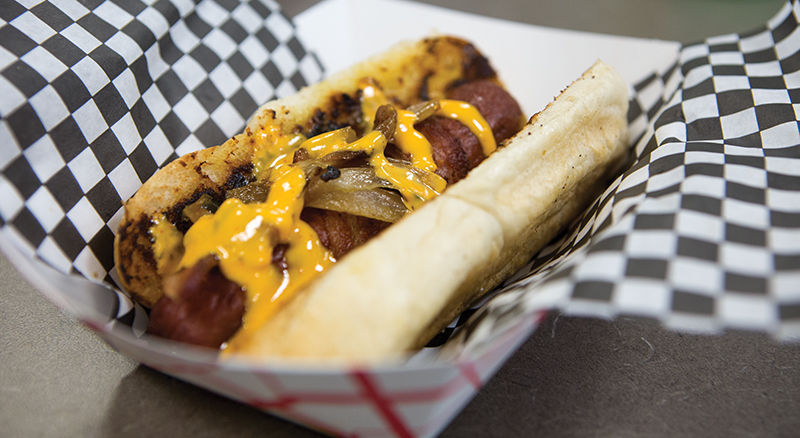 A variety of food trucks began appearing at Sacramento State in the summer of 2013. They have since then become a part of campus, with single truck events visiting twice a week and one multi-truck event once a month.
The food trucks were re-introduced to campus because of the closing and remodeling of the Hornet's Nest in the University Union.
Krush Burger, Drewski's and Chando's are a few of the food trucks students will see around campus.
"The diverse offerings include options such as burgers, tacos, sandwiches and desserts, with the goal of having something that will appeal to everyone," said UEI spokesperson Angela Radar.
The food trucks are fairly priced and affordable for college students.
Drewski's offers small snacks such as Drewski's Famous Tots and Deep Fried Mac Balls for as little as $3-5.
"Based on the increased number of Facebook fans to the Sac State Campus Dining page during food truck events, it's evident that students, faculty, and staff are happy to have them on campus, " Radar said.
Senior math major Nick Sullivan said he usually goes to Chando's, but when Drewski's is on campus he usually eats there.
Sullivan described the food on campus being terrible and finds the trucks to offer better food than the Union.
Freshman food and nutrition major Anais Higuera said the food trucks are convenient because in high school there were not as many options for food. She decided to check out the food at Drewski's to try something new.
"As long as it has food and it's cheap, then I'm fine," Higuera said.
Pre biology major Chang Thao stopped by Chando's food truck to see what they had to offer. He said it was nice to have more options to choose from.
Brittany Cisco, a junior criminal justice major, said she has tried Drewski's famous grilled cheese and stopped by to try Chando's burrito.
"It's cool because you don't have to go somewhere else, it's close," Cisco said.
Whether a student is interested in a small snack or a full meal, the food trucks have both to offer.
A good way to keep up with when the food trucks will be on campus is to like the Campus Dining Facebook page.
"It's an excellent resource to learn about all the great things happening within campus dining," Radar said.