Hornets earn series sweep against Chicago State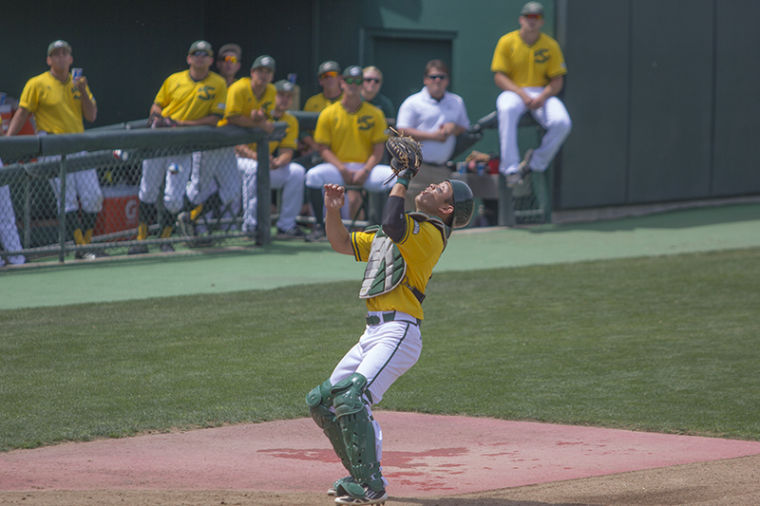 State Hornet Staff
May 4, 2014
Sacramento State's strong pitching helped earn the Hornets earn the series sweep Sunday as it took down Chicago State at John Smith Field.
Freshman starting pitcher Justin Dillon went six innings, striking out six and giving up only two runs in the 3-2 victory. It was Dillon's third win of the season.
"Felt good, just honestly the defense is behind me and I trust them," Dillon said. "It's just one of those feelings that you know you can do your job when everyone is behind you."
In Dillon's previous start, he took a no hitter into the eighth inning in a win against Cal State Bakersfield.
Relieving Dillon was sophomore closer Sutter McLoughlin who was put in the game in the seventh inning with a 3-2 Hornets lead. McLoughlin would earn the three-inning save and would record his ninth save of the year.
McLoughlin is now tied for the Sac State record in saves with 26. It was McLoughlin's second save since March 23.
The Hornets were down 1-0 until the fifth inning, where sophomore catcher Dane Fujinaka tied the game with a run scoring single.
"I was just trying to battle with two strikes, trying to put a decent swing on the ball," Fujinaka said. "The guy hung what I think was a cutter and kinda just stuck my bat out and kinda got lucky."
The Cougars retook the lead in the top of the sixth before the Hornets put up a two spot in the bottom of the inning. Neither team scored the rest of the way.
Chicago State's starting pitcher, Dane Mehring, did not allow a hit until the fourth and gave up only two runs in 6.2 innings pitched. Mehring is now 0-8 on the season.
Head coach Reggie Christiansen was relieved to win the game, even without the high powered offense the team has benefitted from recently.
"We won, anytime you sweep somebody you've gotta feel good about it," Christiansen said. "The goal is to win games, and we did that."
The Hornets are now 31-18 overall and 17-4 in Western Athletic Conference play.
Sac State has no midweek games and will take on WAC opponent, University of Texas-Pan American on Friday. First pitch is at 5 p.m.