Hornets blank Chicago State behind Leitao's eight inning performance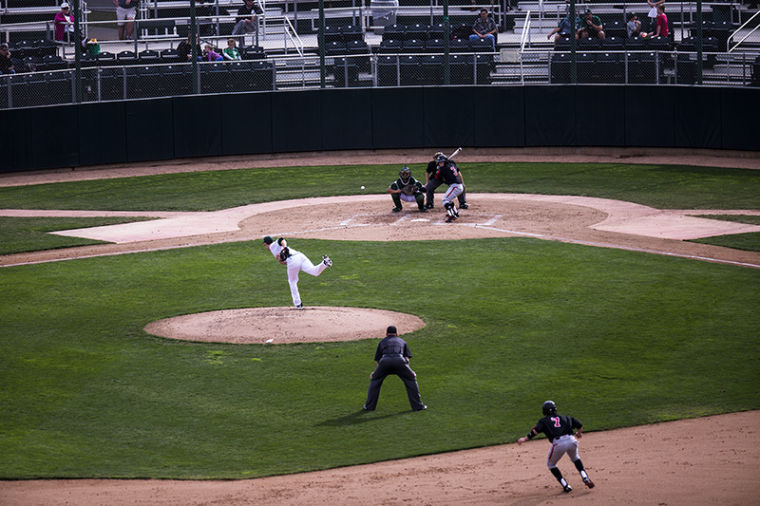 State Hornet Staff
May 2, 2014
Junior starting pitcher Brennan Leitao made his longest outing of the season Friday, throwing eight shutout innings and holding Chicago State to just three hits at John Smith Field.
Leitao was efficient as he never allowed a Chicago State runner past second base in the 6-0 victory. It was Leitao's seventh win of the season.
"It's nice to have the body nice and loose and everything and go out there and throw strikes," Leitao said. ""It seemed like everything was working, I threw one changeup, mainly fastball, slider and got the job done."
Sophomore closer Sutter McLoughlin came on in the ninth to complete the shutout
Head coach Reggie Christiansen was very impressed with the way Leitao pitched.
"Brennan threw a heck of a game," Christiansen said. "He was in complete control from the get go."
Sac State jumped out to a quick 1-0 lead in the first inning with an RBI sacrifice fly by senior center fielder David Del Grande.
Leading the Hornets offensively was junior left fielder Kyle Moses as he went 3-for-4 with two RBIs. Sophomore catcher Dane Fujinaka also chipped in two RBIs and even had his second stolen base of the season.
Fujinaka has had two stolen bases in the last five games after not having any during the previous 42.
The 3-4-5 batters in the Sac State lineup struggled going just 1-for-10 at the plate. Christiansen said these days happen, but the other phases of the game were crisp.
"Pitch and play defense, I wasn't completely thrilled with how we swung the bat. I think we can be better but you know, it's baseball, this game is not easy," Christiansen said. "Lucky for us, today Brennan carried us."
Sac State will take on Chicago State for game two of this Western Athletic Conference matchup Saturday at John Smith Field at 2 p.m.
"Anytime you win on Friday, there's a good chance to win the series on Saturday," Christiansen said. "We have three weekends left to play, and the goal is to win the championship."