Hornets baseball now 9-0 in the WAC after win over Seattle U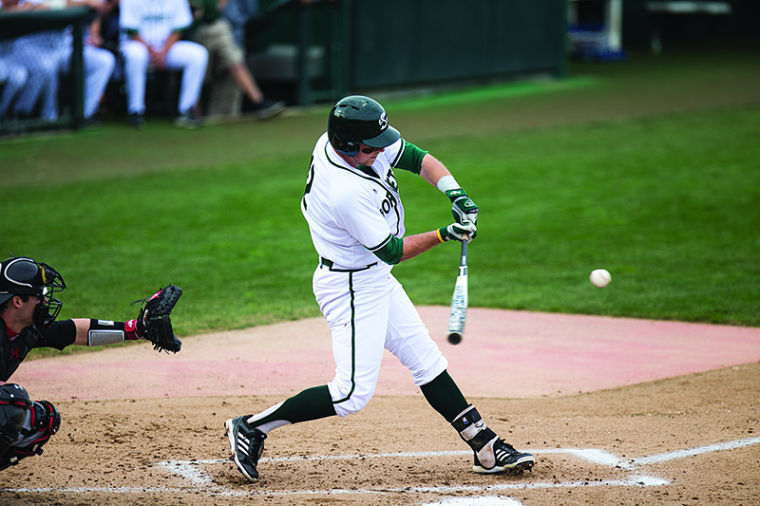 State Hornet Staff
April 6, 2014
Confidence is at an all-time high inside the clubhouse at John Smith Field.
Sacramento State's baseball team had swept its first nine games of the Western Athletic Conference season and has a three-game lead over the University of North Dakota, Utah Valley University and Grand Canyon University.
Its most recent win came Sunday afternoon when the Hornets defeated Seattle University, 4-3.
"This was the best three-game sweep since I've been here in six years," said Hornets' head coach Reggie Christiansen. "It takes 31 guys to do what we are doing now and its fun to be a part of it."
The team has also won 12 games in a row and reached 20 wins for the third season in a row.
The Hornets gave up runs in the first and second innings when redshirt freshman Justin Dillon gave up a single to Seattle third baseman Brandon Carpenter. Dillon lasted only one inning because Christiansen said he wanted to slowly work him into the rotation. Dillon underwent Tommy John surgery and missed all of last season.
The Redhawks doubled their lead during the next inning when they scored on an error by Hornets' freshman second baseman Brandon Hunley. Despite making three errors, the Hornets still have the conference's second best fielding percentage.
In the fourth, Sac State tied the score when senior third baseman Will Soto drove in senior center fielder David Del Grande. One inning later, the Hornets took the lead on a sacrifice fly from junior first baseman Rhys Hoskins.
Hoskins finished 3-for-3 with two RBIs and a stolen base that came in the seventh inning.
After a stellar freshman year that included a .353 batting average, 10 home runs and 44 RBIs, enough to earn him WAC Freshman of the Year, Hoskins struggled early last season and batted .283. During his junior season, however, he said he is really trying to get back to his approach when he first joined the team.
"I'm trying to keep my approach simple," Hoskins said, who is now batting .378. "I'm not overthinking pitches."
This year he ranks as one of the top five hitters in the conference and already has five home runs and 26 RBIs.
The pitching combination of Jared Paderez and Alex Palsha held Seattle to two unearned runs on two hits and three strikeouts over eight innings since replacing Dillon.
"I haven't been comfortable on the mound during my last couple starts and I just needed to settle down," Paderez said.
Sac State starts a five-game road trip starting at the University of the Pacific Tuesday before heading out to Arizona on Friday to play Grand Canyon.
First pitch against the Tigers is at 6 p.m.