Defense a key to success for Hornets baseball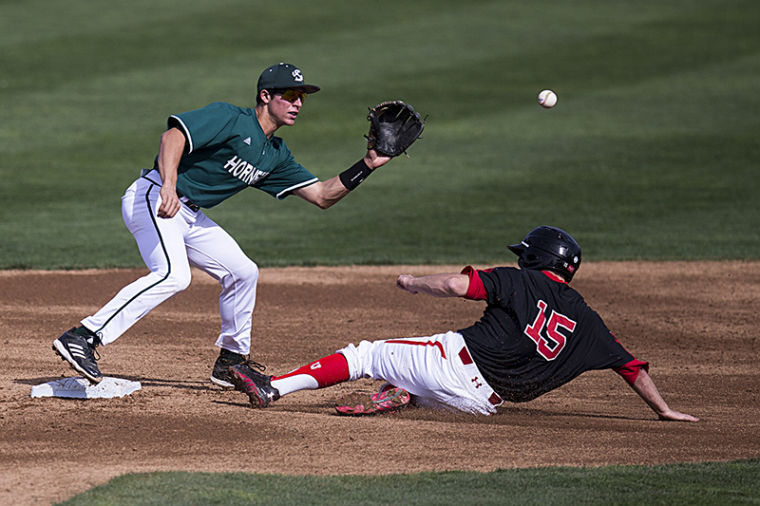 State Hornet Staff
April 22, 2014
Pitching and hitting wins games, but defense wins championships and Sacramento State's defense has helped the team to first place in the Western Athletic Conference.
Players like Sac State outfielders, senior David Del Grande and sophomore Nathan Lukes, along with junior shortstop Scotty Burcham have made highlight reel plays all season.
Defense is very important for the Hornets as they have only given up 40 errors this season. It is the third fewest errors made in the WAC.
Lately, the team has been showing off its glove and baseball technique as the defense is not just consisting of getting outs, but making plays.
In the seventh inning against Utah Valley University on Friday, Lukes made a throw from the outfield wall that held the runner from turning a single into a double.
It was a line drive that never touched the ground.
"I just try and keep the arm healthy," he said.
Lukes has started every game this season and has made many throws like that. He has a .988 fielding percentage and has made four outfield assists this season. In 2013, Lukes led all Hornet outfielders with seven assists.
"He's been fun to watch, the play he made out in right field, you know, stopped the guy from going to second base and who knows, we might still be playing," said Sac State head coach Reggie Christiansen. "That's an exciting play and good for us."
Last season, the Hornets ranked 10th in the NCAA Div. I in fielding percentage. In 2014, the team has compiled a .974 team fielding percentage which as of Sunday, is good for 40 in the NCAA.
Pitchers are usually the most vocal about the team's defense, and freshman starting pitcher Sam Long has praised the way the team has played in the field.
"It's a lot easier to pitch with defense like that," Long said. "I couldn't be happier with that."
Helping out the pitchers this season has been left fielder Kyle Moses. He has robbed two home runs this season, both helping secure Hornet victories.
"You know people, whenever they play outfield, they want the opportunity to rob a home run and the ball just kinda found the upper part of the fence and I was lucky to grab them," Moses said. "No, I've never done it, that's kind of a once in a lifetime thing."
As Sac State takes control of the Western Athletic Conference, it will need to continue to ride its defense in order to make the NCAA tournament for the first time in school history.