Women's basketball breaks 3-point record, loses at Montana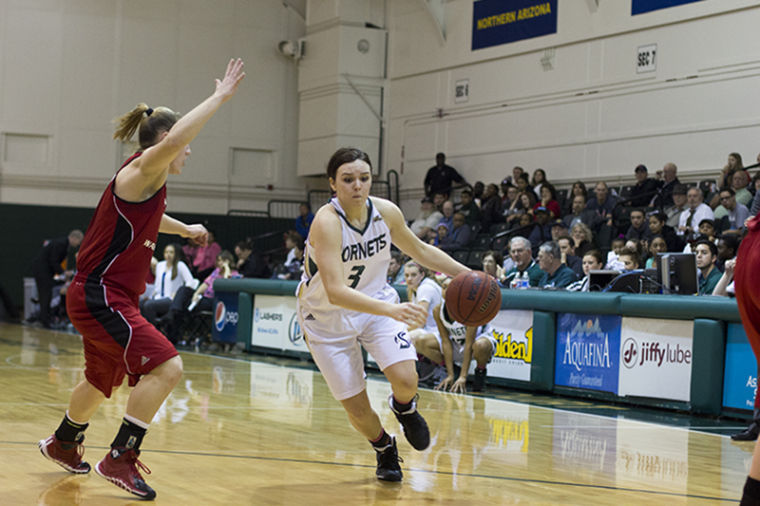 State Hornet Staff
March 6, 2014
The Sacramento State women's basketball team broke the NCAA Div. I record for most 3-pointers made in a single season, but came away with a loss against the University of Montana, Thursday in Missoula, Mont.
Sac State converted 15 3-pointers for the evening in the 87-76 loss to the Lady Grizzlies (19-9, 13-6). The Hornets now have a total of 351 on the season. The Hornets needed only seven 3-point makes to pass the previous record of 342, set by Florida Gulf Coast University in 2012.
The Hornets trailed by as many as 14 in the second half, but brought the deficit within two at 69-71 with 8:31 left. Montana would end up going on a 16-7 run to close out the game.
Sac State freshman forward Hallie Gennett scored 17 points to lead the Hornets. Senior guard Alle Moreno and junior point guard Fantasia Hilliard each chipped in with 14 points.
Collectively, the Hornets converted on 35.5 percent of their field goal attempts, including 38.5 percent from 3-point range.
The Lady Grizzlies were led by forwards, Jordan Sullivan and Maggie Rickman, and guard Kellie Cole.
Sullivan, Rickman and Cole combined for 61 points on 59.4 percent shooting. Sullivan finished with a double-double as she tallied 21 points and 15 rebounds.
 Montana finished the evening shooting 55.9 percent from the floor, including 50.0 percent from 3-point range.
Sac State (18-10, 10-9) will play its final game of the season on Saturday when it takes on Montana State University in Bozeman, Mont. Tip-off will be at 1 p.m.
Satchi Hover can be reached on Twitter @SatchiHover