Softball wins on game-ending error against CSU Bakersfield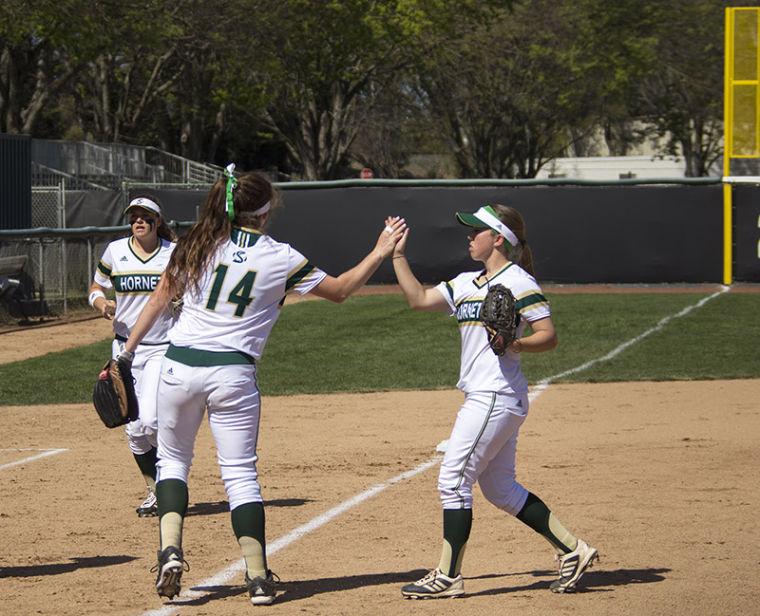 State Hornet Staff
March 16, 2014
Errors ruled the game when Sacramento State softball and Cal State Bakersfield squared off on Sunday in the rubber match at Shea Stadium.
The Hornets won the game 2-1 by a game-ending error.
Defensively, the Hornets were the better team as they didn't give up a single error compared to the five the Roadrunners' defense committed. Head coach Lori Perez said the difference in Sunday's win for the Hornets was defensive miscues in the game.
In the bottom of the seventh inning tied at one, the Hornets loaded the bases with nobody out via an error, a walk and a bunt single by freshman pinch hitter Alexis Martinez.
Two batters later, Sac State's freshman catcher, Nikki Gialketsis, slapped a grounder to Roadrunner's third baseman Madison Bundy. Bundy threw home for the out, but catcher Ashley Carter rushed her throw to first base causing an error. The resulting play scored sophomore designated player Kortney Solis to win the game.
Solis said once she reached base that she was going to score no matter what in the seventh inning.
"Once I saw the overthrow by the catcher, and it tipped the glove of the first baseman, I knew I was scoring, because it was a bam-bam play," Solis said.
Sac State used two pitchers, sophomores Kaitlyn Yerby and Jennifer Hartman, combined to throw seven innings, allowing one run on four hits and four strikeouts.
Hartman (3-3) won her second game in two days, made her 10th appearance and her fifth relief appearance this season. In her 3.2 innings of work, Hartman was not as pinpoint as she was yesterday in her win against CSU Bakersfield.
"I used my fastball a lot to get me out of situations and to re-establish getting ahead in counts," Hartman said.
The timely hitting from both teams was not there as both CSU Bakersfield and Sac State combined to leave 16 runners on base.
Sac State will play a doubleheader at home, Tuesday against Princeton University starting at 1 p.m. at Shea Stadium.
lifton can be reached on Twitter at @jonesSHsports