Men's basketball loses in Idaho State, falls into a three-way tie for seventh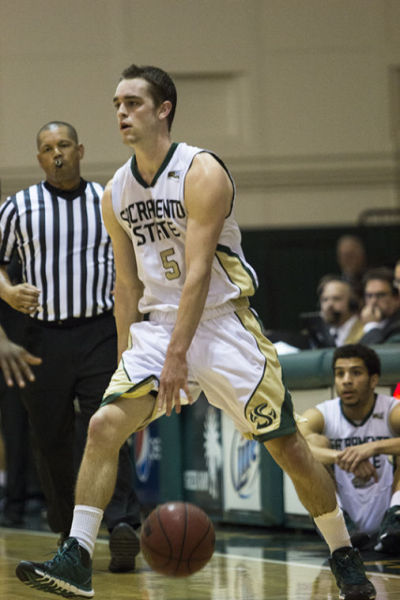 State Hornet Staff
March 2, 2014
POCATELLO, Idaho –Things can change drastically in just a week during the Big Sky Conference basketball season.
On Feb. 22, Sacramento State won seven out of the its last eight games and was tied for third place in the Big Sky Conference, but a road trip later, they see themselves on the outskirts of receiving its first Big Sky Tournament appearance since 2006.
After a four-day trip that included Saturday's 80-67 loss to Idaho State and falling to Weber State two days prior, the Hornets record fell to 13-14 and 9-9 in the Big Sky. They are now in a three-way tie for the final seventh spot in the conference tournament.
"We want to win every game." said senior forward Jordan Salley. "We had the momentum, but we didn't finish strong,"
Sac State came in winning two out of the last three meetings with Idaho State dating back to 2012, but the Bengals put together a strong second half that outscored the Hornets by 17 points. 
It was the fourth loss this season after leading the game at halftime.
"They just got all the rebounds,"said Sac State head coach Brian Katz. "[Their forward, Jeffery Solarian,] had none at our place and none in the first half and then he took the game over."
Sac State was out-rebounded by 15 in the second half where Solarin picked up 14 of his game-high 18 boards.
The Hornets started the game making four of their first seven shots from 3-point range and quickly jumped out to a nine-point lead with 12:05 remaining in the first half. 
Junior point guard Dylan Garrity struggled during his last three games shooting a combined 22 percent from the field, but got off to a hot start making three 3-pointers and 11 points at halftime.
He finished with a career-high 26 points that included eight 3-point shots.
In the second half, Idaho State responded with baskets by Andre Hatchett and Chris Hansen as the Bengals went on a 14-4 run in the first five minutes and never looked back.
The Hornets came within six points with five minutes left in the game, but Idaho State stood its ground as it ended the game on a 13-6 run. 
"They just started hustling a little more and were more aggressive," Salley said. "They wanted it more than we did."
The Hornets travel back to Sacramento for their last two home games of the season starting Thursday against the University of Montana.
Sac State holds the program's best seven-game home winning streak and Katz said he knows the importance of the next two coming up. 
"We have to go home and win," Katz said.
Ryan can be reached on Twitter at @rskuhn