Lowbrau owners add an extension offering meats and cheeses on butcher blocks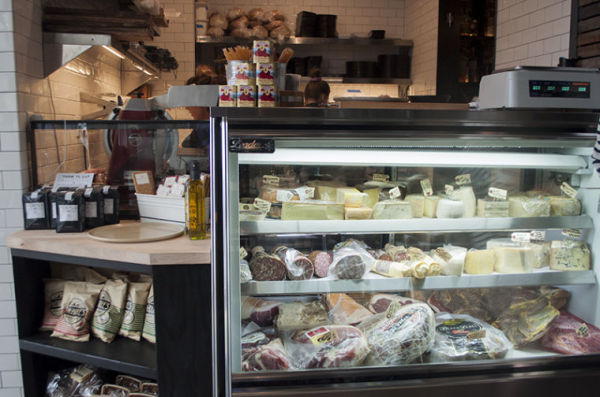 Located at 1050 20 St in Midtown, Block Butcher Bar is the latest addition to the portfolio of co-owners Clay Nutting and Michael Hargis, who also own in the area LowBrau ,a German restaurant and pub in the same building.
"Everything started from just a few ideas and bloomed into what it is today," Nutting said.
The Block Butcher Bar opened Feb 24, with a deli concept that allows Nutting and Hargis the opportunity to make in-house sausages.
Nutting said the inspiration for Butcher Block came from a deli concept that could not be included into Lowbrau when it first opened. The co-owners wanted to have in-house meats and fine cheeses.
The atmosphere of Butcher Block is darker and more sophisticated compared to the festive, german-esque beer hall of Lowbrau.
Butcher Block's theme comes from an actual butcher block, which meat is cut on.
"Nothing is more house-made than when you're doing things from scratch and developing relationships with producers and farmers and sourcing your product from local farms," Nutting said.  
Butcher Block and LowBrau Executive Chef Michael Tuohy describes the food at Lowbrau as mainly sausage and beer, while Butcher Block is a "salumi and charcuterie cocktail bar."
"The most popular order at Lowbrau are sausages and kale salads, and the most popular at The Block are salami boards, cheese slabs and brussel sprout salads," Tuohy said.
The restaurant is the only one in Sacramento serving meat and cheeses on a butcher bar.
Tuohy said although prices are slightly more expensive than LowBrau, every item on the menu is quality food.
Sandwiches and salads are $11 or less while cheese and meat boards vary in price from $10 or more.
"Its focus is not on sausage, but on cured pork products and fine cheeses," employee Kaitlin McPhee said."The bar is very much focused on single malt Scotch and North American whiskey's."
Butcher Block is not only unique because of the meats and cheeses offered, but also because it is doing something different in the bar.
"All of our single malt Scotches and North American whiskey's are priced by the ounce and because we [do that], the prices are adjusted accordingly," McPhee said. "If people want to really learn about Scotches and come in, they have the opportunity to try multiple kinds of Scotches because it's a smaller amount and smaller price."
Customers Michaela Manago and Judith Bommer said they like the atmosphere of Butcher Block and think it's a good extension of Lowbrau.
"Michaela and I haven't seen each other in awhile so we wanted a place we could come and talk and I think this place is better [than Lowbrau], it's more intimate here," Bommer said.
Lowbrau has been popular amongst Sacramentans and while new, Block Butcher is generating interest.
Even though Butcher Block is the second restaurant for Nutting and Hargis, they said it was still difficult getting another business off the ground.
"It's very daunting," Nutting said. "In the restaurant industry, if you don't have enough experience, there's a lot of unknowns."
The concept  of design and building of Lowbrau was something Nutting and Hargis wanted to come across as very approachable and casual, while Butcher Block was designed to be more sophisticated and intimate.
While being an entrepreneur may appear to be tough, Nutting said he knows it comes down to belief and perseverance.
"I think at its core, [opening a business] is really about how much you want what you're about to do because there have been many times when we thought we were at the end of the line, but we kept going," Nutting said.
For customers who were pleased with LowBrau and its laid back atmosphere but want to try a restaurant with a darker and more intimate twist, Block Butcher will give customers a new experience.