Hornets snap four-game losing streak against Minnesota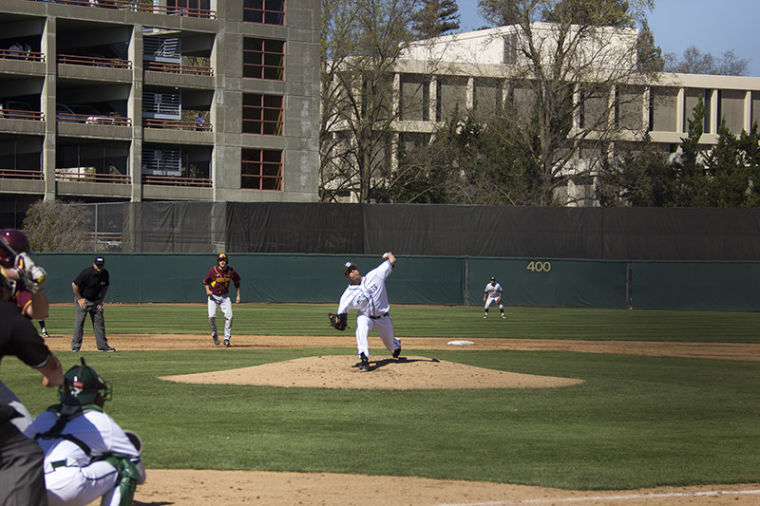 State Hornet Staff
March 15, 2014
The Sacramento State offense woke up from its scoring drought, putting up six runs and snapping its four-game losing streak, Saturday at John Smith Field.
Sac State's six runs were enough to take down the University of Minnesota, 6-2 in the second game of the series.
The Hornets went with a different lineup and it helped as they scored the same amount of runs as the previous five games combined. It was the first Sac State victory since Mar. 5 against Fresno State.
Head coach Reggie Christiansen wanted to give other players an opportunity to play and to switch things up a bit.
"We just haven't been going good enough for every guy to feel like he's owed the right to play everyday so today we felt like playing some other guys, and it worked out," Christiansen said.
Senior second baseman Scott Loper made just his sixth start of the season and went 2-for-4 with two RBIs.
Sac State jumped on the board early putting up runs in the first and third inning thanks to the duo of senior center fielder David Del Grande and sophomore right fielder Nathan Lukes.
Lukes had a double in the first and a single in the third both times scoring Del Grande from second base. The two combined to go 4-for-6 with three RBIs and three runs scored.
"I definitely feel involved you know, especially when we're struggling a little bit. It feels good to get everything going," Del Grande said. "It's a good feeling when everything's going right."
On the mound, Sac State held the Golden Gophers to just two runs on eight hits. Freshman starting pitcher Sam Long, junior reliever Alex Palsha and sophomore closer Sutter McLoughlin kept Minnesota off the scoreboard the final five innings of the game.
Long earned the win, pitching six innings giving up two earned runs. Long has improved his ERA to 2.62 which leads all Hornet starting pitchers.
"I just tried to keep the ball low and it was working out for me," Long said. "Missed a lot of barrels so it felt good."
Long got the nod over usual weekend starting pitcher, junior Ty Nichols, due to stiffness. Nichols is set to return to the mound Tuesday against Pacific University.
Long was eager to make his weekend debut as a starting pitcher.
"I felt like I was pretty well prepared," Long said. "It was an honor to be able to get out there for a weekend start."
Sac State will finish its series against Minnesota, Sunday at 1 p.m. at John Smith Field.
Curtis Manlapig can be reached on Twitter @CTMstatehornet