Women's basketball poor offensively in loss to Northern Colorado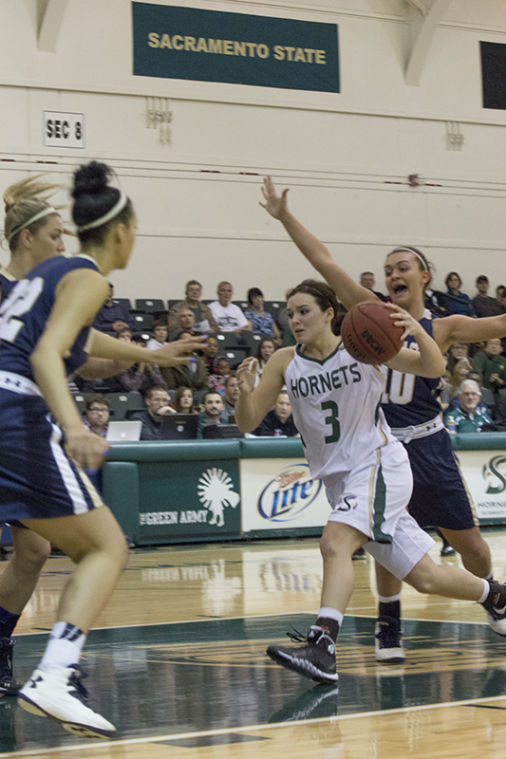 State Hornet Staff
February 21, 2014
Sacramento State's women's basketball team struggled offensively against the University of Northern Colorado, one of the top defensive teams in the Big Sky Conference, Thursday.
The Hornets lost to the Bears on the road, 62-55. Sac State's 55 points were the second lowest total for the team this season. 
Sac State (16-8, 8-7) was unable to shoot well going 19-64 for a 29.7 field goal percentage. For the season, the Hornets have a 38.3 field goal percentage.
The Bears ranked second in the Big Sky in team scoring defense entering Thursday's game holding their opponents to 63.6 points per game.
The Hornets also had trouble on the defensive end, as they recorded a season-low three steals. Sac State entered the game with the highest steals per game average in the NCAA.
Sac State freshman guard Gigi Hascheff led the Hornets in scoring with 13 points, while fellow freshman, forward Hallie Gennett, followed behind with 11 points.
The Bears (14-11, 8-8) were led by the duo of junior forward Kim Lockridge and sophomore center Stephanie Lee. Lockridge and Lee combined to score 37 of the team's 62 points.
Northern Colorado converted 24-51 shots from the floor and controlled the glass with 42 rebounds.
Sac State will continue on the road to play North Dakota, Saturday afternoon. Tip-off is at 12 p.m.
Satchi Hover can be reached on Twitter @SatchiHover