Confidence running high with men's basketball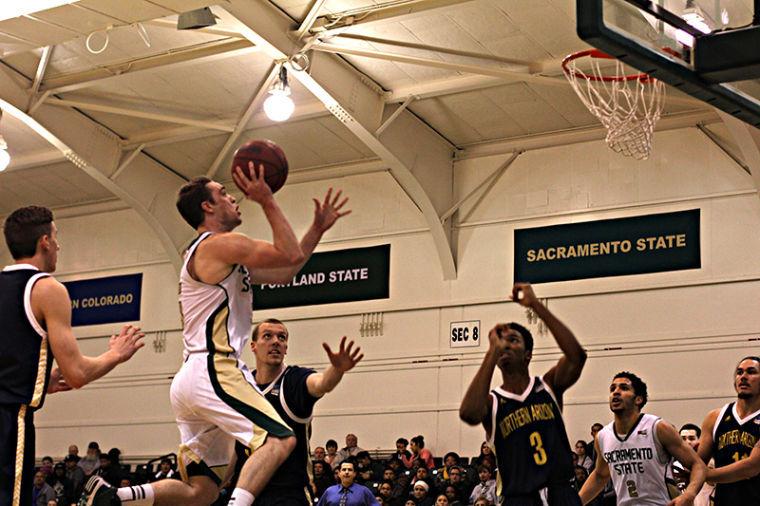 State Hornet Staff
February 7, 2014
Shocking the conference leader in front of the home-court crowd can certainly reignite a team's confidence level.
Just five days after Sacramento State men's basketball defeated Weber State in stunning fashion, the Hornets won its third-straight Big Sky Conference game at The Nest Saturday, defeating Northern Arizona 87-70. 
The win was only the second in the last 19 meetings with the Lumberjacks. Sac State won convincingly at home two seasons ago.
"[Northern Arizona] has had our number," said Hornets' head coach Brian Katz. "Right now we are just playing with a lot of confidence,"
The Hornets started the game on an 13-4 run in the first five minutes led by a couple scores by junior point guard Dylan Garrity.  Sac State would extend its lead as much as 14 points when junior guard Mikh McKinney hit a jumper in the lane. 
"[Northern Arizona has always been tough," McKinney said, who finished with a game high 26 points. "We really just had to keep with the scouting report and it worked for us today."
Although the Hornets kept Northern Arizona's second leading scorer Max Jacobsen mute because of early foul trouble, the Lumberjacks cut their deficit to as little five points with 2:05 left in the first half and only trailed by seven points at halftime.
In the second half, Sac State received from help from its bench as junior forward Zach Mills and sophomore guard Dreon Barlett contributed with 15 points a piece and was a combined 9-13 from the floor.
Since being inserted into the starting lineup back on Dec. 15 against William Jessup, Mills has struggled being consistent. He was 0-6 last Saturday against Weber State, but when he scores 10 or more points, the team is 4-3.
"Everyone has an off shooting night, but tonight they were falling and they kept falling," Mills said.
This season, Barlett has played only one game in which he scored more than five points, but finished with his career high and made both of his 3-pointers.
"After I hit my first shot , it built my confidence and my teammates were able to find me," Barlett said. 
Northern Arizona cut the Hornets' lead down to as little as six points until McKinney hit a 3-pointer that blanked off the backboard to start a 18-7 run during the final six minutes.
The Hornets have improved their record to 9-11 and 5-6 in the Big Sky, currently tied with Montana State, Eastern Washington and Idaho State in fourth place.
"I know we are playing our best basketball right now," Katz said. "But that doesn't mean we can't play better."
Sac State it returns to the court Monday to conclude its four-game home stand against Southern Utah. Tipoff is at 7:05 p.m. 
 Ryan can be reached on Twitter at @rskuhn