Coffee Garden offers a mixture of cultures for locals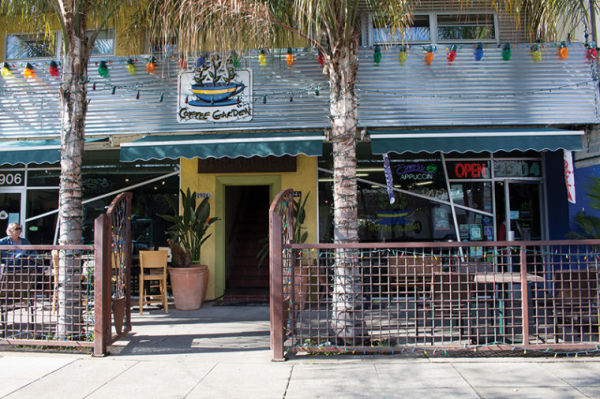 State Hornet Staff
February 5, 2014
With its bright Christmas lights and tropical plants surrounding the front patio, Coffee Garden is sure to capture the attention of anyone passing by.
Located on Franklin Boulevard, less than 15 minutes away from Sacramento State, Coffee Garden offers a mixture of cultures for everyone to enjoy. 
Michael Madsen opened Coffee Garden in 2005, and said his goal for the shop was to create an inviting environment where anyone could walk in and enjoy a cup of coffee, art or relax out in the back patio with the view of the garden.  
"I kind of designed [Coffee Garden] myself," Madsen. "I wanted to have my own concept."
Whether craving something hot or cold, Coffee Garden offers everything from hot espresso drinks, tea, smoothies and iced drinks.
Its most popular drink is the Mexican Tuxedo, a cinnamon, nutmeg mocha with a slight spicy, yet sweet flavor.
Its pastries include red velvet cake, cheesecake, cannolis and berry pie, which go perfect with any drink on the menu.
 The menu is not limited to drinks and pastries. Customers can also enjoy a fresh Greek salad and club sandwich or a bowl of chili and focaccia pizza on those cold winter nights. 
For less than $4.50, customers can order any drink on the menu and for no more than $8.00, they can also buy a sandwich on fresh baked bread with ingredients. 
Madsen said prices have only been raised twice since the opening of the shop.
Ayana Moore has been working at Coffee Garden for three months.
"It's a fun place to work at," Moore said. "I like the atmosphere and that it is student friendly. It's not like Starbucks where people go to just use the WiFi." 
 The unique coffee shop not only serves as a lounging area, but the perfect spot for college students to have some late night study sessions before it closes at 11 p.m., six nights a week.
Electrical engineering major Luis Guerrero is a Coffee Garden regular and said he always feels welcomed and appreciated.
"The coffee garden is a home away from home for me," Guerrero said. "I love that its not too quite like a library but not loud and rush busy like other corporately own coffee shops." 
With its secret room next door, students are able to have a dedicated space where the loud noise of blenders is nearly impossible to hear.
Coffee Garden also serves as a place for local artists to display their art.
Madsen said he gives artists a chance to show off their work because many times they may not have another place to show it.  
The shop is also popular with customers because of its game nights, book club meetings, Wednesday morning Spanish class and farmers market, but perhaps the most popular event is open mic held every Thursday night.
Nursing major Tyler Church goes to the event and has even performed his original songs on guitar.
"It's a unique coffee shop," Tyler said. "It actually has a garden and the hot chocolate is the best."
Whether customers want to enjoy a hot drink and lunch in the garden or look at the several displays of art, Coffee Garden is sure to satisfy anyone with great coffee, food and entertainment.