President Alexander Gonzalez announces more new faculty, campus improvements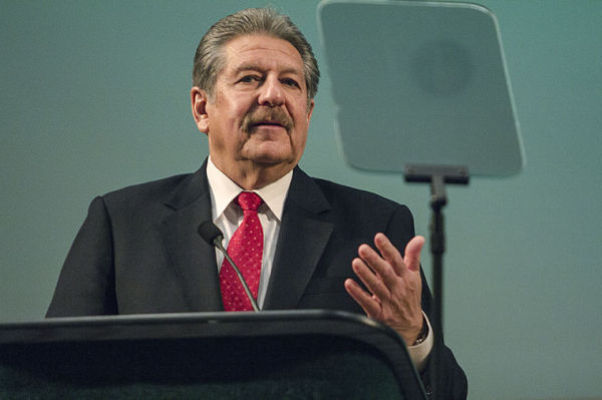 Sacramento State President Alexander Gonzalez presented his 2014 spring address Thursday, addressing the goals and accomplishments the university has for the semester.
Gonzalez announced 33,000 students applied for the fall, which is close to an all-time high and is positive news for school revenue.
In relation to funding, Gov. Jerry Brown's latest budget proposal emphasizes affordability, completion rates, time to degree and transferring more students from community colleges.
Gonzalez said tuition fees should remain at their current levels based on a $142 million general fund increase from the governor's proposal.
Because funding has not been reduced and to accomplish the goal of improving higher education, 40 new faculty members will be joining Sac State in the fall.
"What we need to do is get back up to our staffing level where you as a student are going to have a lot easier time finding the courses (and) getting the sections you need," Gonzalez said. "It's not only replacement. It's looking at where they're going to go in the future."
The Student Housing Advisory Committee is developing a proposal of a new 350-bed residence hall in front of Desmond Hall. If approved by the the Chancellor's Office, the project will be completed in fall 2017.
"All of the dorms are built through student fees and in order for us to build we have to have a certain level of reserve available before we can start," Gonzalez said. "We have all that (and) now we have to go back to the Chancellor's Office. We're hoping to be able to build this new one and design it so that it goes up and students will be able to look out over the river and surrounding areas and be able to see the nice things about Sacramento."
Some campus improvements are already completed and include four completed lab renovations, 14 smart technology classrooms and new lights installed near the Residence Halls.
A $78,000 grant from the City of Sacramento will be used to replace bathroom fixtures throughout campus in the following months and will only use a third of the water.
While University Transportation and Parking Services is still looking for long-term solutions for traffic congestion on campus, many of the road names on campus have been changed to facilitate navigation.
Sac State Parents and Families Councilmember Tremain Downey was present during the President's address and was interested in the university's future.
"I'm looking forward to the campus being tobacco-free prior to 2015," Downey said. "I know some of the other schools did it a lot quicker and (Gonzalez) said we're going to try to do it sooner than fall 2015 and I think we should."
Downey also said he would like to hear more about the Strategic Plan, which is specifically tailored to how the campus can solve university community issues, and how to provide input.
Gonzalez addressed this concern as the final update during the address. He said the process will continue this spring with hopes to be completed by the fall.
Gonzalez also said he will be serving as a chairman for the March for Babies fundraising event that will take place April 26. Prizes for top teams and fundraisers will be announced in the weeks to follow.
Family consumer sciences assistant professor Lynn Hanna was enthusiastic of Gonzalez's involvement with March for Babies and hopes to see more good follow.
"I would like to see him be involved with the March of Dimes every year," Hanna said. "I'm glad that we have the ability to expand campus resources and services available to students. Getting new instructional materials for classrooms that's a good thing."
Gonzalez said he is hopeful of the university and the futures of students.
"Things are much better than they have been in the past and I wish them a good semester and success," Gonzalez said.