American River remains dry as water flows limited by drought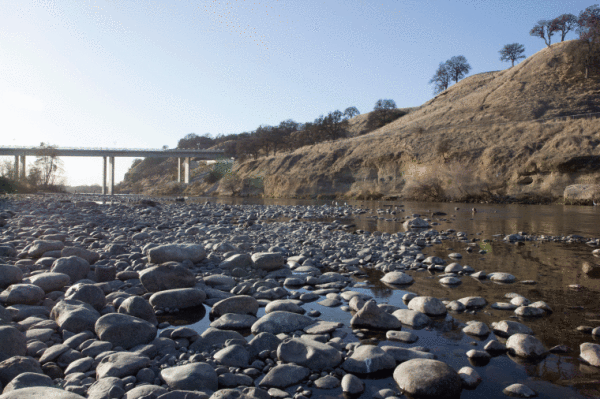 State Hornet Staff
January 28, 2014
As the warm morning sun shines on the American River reflecting the barren trees and sprawling shrubs from the surrounding area, Sacramento State students cross the Guy West Bridge and descend down into the aptly named Riverside Courtyard.
But a closer look into Sacramento State's backyard not only reveals a muddy and rocky riverbed, but a developing sandbar, an island composed of silt, gravel and small rocks.
"I'm concerned about the low levels of water," said Kevin Mackey, benefits analyst for the Office of Human Resources. "I know it's winter but (the river) looks unusually dry. With us coming up on spring and summer not too far away, it's going to be a tough season for firefighters and for us."
Stretching from the Sierra Nevada Mountains, splitting into three forks and eventually merging into the Sacramento River,  the American River and its surrounding areas have been viewed as the jewel of the Sacramento region by several state park associations.
A day after the National Weather Service predicted below normal precipitation for two-thirds of California through April, Gov. Jerry Brown announced Jan. 17 the state was in the midst of a drought.
With a lack of snow in the Sierra Nevada Mountains, reservoir levels continue to drop, and Sacramento will be without rainfall for 51 days as of Tuesday, breaking its 1884 record of 47 days – unprecedented dry weather for a region known for its high water usage.
Stretching 23 miles across Sacramento and its surrounding communities and parks, the American River Parkway follows the American River and includes scenic trees, wildlife and water. Operated jointly by the city and county, the parkway first began as a dirt trail after World War II, and was included in the recreation portion of Sacramento County's general plan in 1962.
When Elmer Aldrich first joined the Department of Parks and Recreation as a conservation supervisor, he found other groups that were concerned about the lack of preservation for the American River and presented a proposal to the Sacramento County Board of Supervisors that included a request for the area to be operated as a special district, outside of the county's jurisdiction.
While the Board initially denied the request, they redirected the proposal to its planning department, which contacted Sacramento City Council and agreed to jointly operate the parkway.
Today the Parkway receives approximately 8 million visitors annually and includes 15 parks and recreation areas, including Discovery Park, River Bend Park, William B. Pond Recreation Area and Paradise Beach. A study conducted by the Save American River Association in 2006 found visitors spent an average of $17 in their local community when touring the parkway.
Sacramento City Council voted Jan. 14 to enact a mandatory 20 percent reduction in water usage after two consecutive dry winters left reservoirs depleted and streams running dry.
Jessica Hess, media communications specialist for Sacramento County, said the situation is also unique because its water treatment plant on the Sacramento River is currently undergoing maintenance for another month, leaving the county with only the E.A Fairbairn plant on the American River.
"Right now we have enough supply for our winter months, but we are looking into those long, dry summer months and how we can ensure we have enough supply for those times," Hess said.
The U.S. Bureau of Reclamation has limited water flow from 800 to 500 cubic feet per second from the Folsom Dam into the American River, which could potentially negatively impact wildlife and fish spawning seasons.
Maret said while less water squeezes sea life into smaller spaces and may make it easier for fishermen, salmon spawning areas are being dried out, causing less reproduction and making it likely there will be fewer fish in the river next year.
Providing fun outdoor experience to Sacramento State students since the early 1970s, Peak Adventures offers both hiking and rafting trips along the American River that connects students to nature.
"It's going to help them focus more efficiently and more effectively, which in turn helps them with their schoolwork," said Peak Adventures Operations Specialist Meredith Budlong said. "If they have a big test to study for, going out and going for a hike is probably one of the best things they can do to come back and study for a test."
Because of a 2007 agreement between Sacramento Municipal Utility District and recreational stakeholders, Peak Adventures will continue to operate its whitewater rafting trips along the south fork of the American River between June and September.
Bur other campus organizations, such as the Aquatics Center, have already cancelled programs, including a kinesiology water skiing course that typically serves as a stress reliever or an introduction to water recreational activities for students, said Aquatics Center Director Brian Dulgar.
While the Aquatics Center experienced a record number of customers last year and continues to serve 20,000 people annually, its staff is strategically planning for the summer months and might be forced to cancel the youth summer waterskiing and wakeboarding program in Folsom Lake.
"If (students) cannot recreate in that resource then it's of little value," Dulgar said. "From an aesthetic standpoint it's nice to see a river on the backside of campus there. But if you can't use or enjoy it then it's not a resource."
While Sacramento residents continue to use approximately 223 gallons per person per day, Hess said the number is down significantly from where it was a few years ago.
"If you look at more recent years the city and the region as a whole have been making great strides in lowering the per capita water use," Hess said. "The city is at a point where we actually are meeting the 20 percent by 2020 reduction goal."
Mackey said he is happy to see Sacramento implement water conservation policies and said the area is of vital importance and serves as a stress reliever for students and residents alike.
"You can't really put a dollar amount on the joy I get from going to Lake Natoma or rafting down the American River," Mackey said.
Daniel Sanchez is a senior civil engineering student who lives across the Guy West Bridge and walks to school daily. He said the river adds to the scenery of the campus and uses the bike trail and river for recreational activities to relieve stress.
"(The drought) is not affecting me just yet to be panicking," Sanchez said.
In his spring address, President Alexander Gonzalez announced new bathroom fixtures for the campus that will save two-thirds of the water currently used, as well as a student housing proposal that would include a new residence hall near the American River, an "underappreciated asset for our campus."
"I've met Sacramento State students before and they aren't even aware the river is right there next to their campus," Maret said. "I would encourage students at Sac State to take a walk over the bridge and experience the river. It's right there in your backyard. Don't ignore it."