Moreno lifts Sac State past Anteaters with late 3-pointer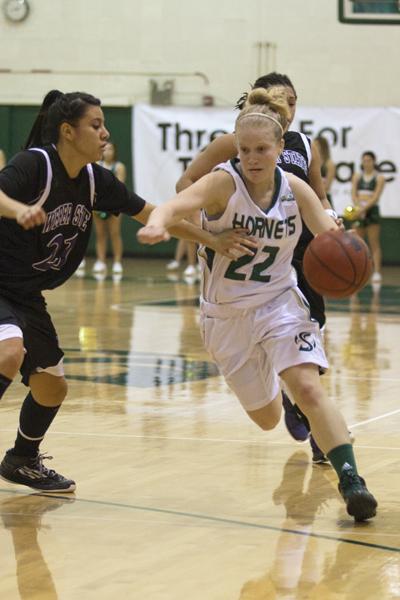 State Hornet Staff
December 14, 2013
Sacramento State women's basketball team won its fifth consecutive game Saturday afternoon at The Nest by doing what the team does best.
With 29 seconds left in the second half, senior guard Alle Moreno made a 3-pointer in the corner, propelling the Hornets to a 99-94 win over UC Irvine.
"We called that play during the timeout and (Takara Burse) ran it to perfection," Moreno said. "She drove and pulled all the defenders in with her and it was a wide-open three. We practiced that all week."
Moreno's shot was just one of 21 3-pointers made by the Hornets. They also set a new NCAA record with 55 3-point attempts.
Sac State struggled from the opening tip, missing its first six shots and not scoring in the first four minutes until freshman guard Gigi Hascheff hit a 3-pointer on the wing.
The Hornets rebounded when they went on a 20-7 run and took the lead on another 3-pointer by Hascheff. 
Although the Hornets extended their lead to 42-37 with 4:07 left in the first half, UC Irvine did not back down as senior guard Jennifer Tsurumoto scored five out of the Anteaters' final seven points to lead her team into the locker room with a 55-53 halftime lead. 
"UC Irvine did a great job and had a great game plan, and we were fortunate to hang on for the win," Harkleroad said. 
In the second half, Moreno's offensive production came to life. After scoring only four points in the first 20 minutes, she finished with 22, including five 3-pointers. 
"I just tried to be more confident in my shot," Moreno said. "I missed a lot of 3-pointers in the first half."
Freshman forward Hallie Gennett also scored 21 points that came off of seven 3-pointers and junior point guard Fantasia Hilliard had a double double with 13 points and 12 assists.
She said being in the up-tempo gives her the ability to be a pass first point guard.
"I like to get everyone involved, but I also like to be a presence," Hilliard said. 
The Anteaters hung on to a 90-86 lead with 3:41 left in the game until freshman forward Margaret Huntington brought down her career-high 13th rebound and scored, tying the score at 90.
The win marks the fifth game the Hornets have won by five points or less. 
"There were no nerves," Hilliard said. "We've been there before and we just have to execute."
Sac State returns to the court in two weeks with its 7-1 record as the team travels over the Causeway to face rival UC Davis. The Aggies are 2-6 this season, but played No. 1 UConn and No. 3 Stanford. 
Tipoff is at 2 p.m.
Ryan can be reached on Twitter at @rskuhn