Men's basketball edges UC Riverside despite difficulty in the second half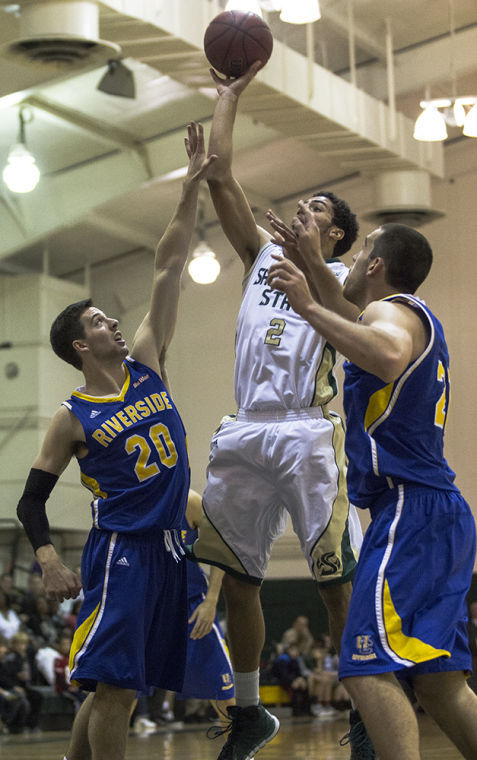 State Hornet Staff
December 29, 2013
In three out of its last four games, Sacramento State men's basketball team has been outscored in the second half and lost, but Sunday's game against UC Riverside was different.
Although Sac State was outscored in the second half by eight points, the Hornets came away a 69-67 win at The Nest when junior guard Dylan Garrity hit two free throws with eight seconds left in the game.
Despite the win, Sac State's head coach Brian Katz said everything went wrong that could have gone wrong in that second half as the team shot 40 percent and turned the ball over nine times.
"We have to change our mindset after the half," Katz said. "We are getting outscored a ton in the second half and we have to change this. The team is really focused on that."
After Riverside tied the score at 10 in the first five minutes, the Hornets went on a 14-2 run highlighted by a 3-pointer by sophomore guard Case Rada and four points by freshman forward Nick Hornsby.
Hornsby finished with eight points and nine rebounds in 20 minutes of play. His nine rebounds were a career high and his points and minutes total was the highest since the first game against UC Santa Cruz on Nov. 8.
"I've started what I have needed to do to help this team," Hornsby said. "I'll keep going to the basket, rebounding hard and playing defense,"
Freshman center Eric Stuteville also finished with four points and three rebounds that included a dunk on a pass from Hornsby.
"Our freshmen are coming on," Katz said. "I"m so excited about them."
In the second half, the Hornets kept their lead in tact for the first five minutes, but after junior forward Zach Mills hit a 3-pointer from the corner, the Highlanders went on a 8-0 run to tie the score at 48-48 with 13 minutes left.
Although Sac State eventually gave up the lead at one point with six minutes left, Garrity led the Hornets, scoring the final five points and taking back the lead.
"I think the difference was the first four minutes of the second half," Garrity said. "We held them off longer and we didn't give them much confidence."
Riverside had one final chance to tie the game but Steven Jones' shot from the wing fell short as time expired. 
"It was expected that this was going to be a close game so we needed to come out hard," Hornsby said.
Sac State will now play the next four games on the road to start Big Sky Conference play beginning Thursday at Montana State.
Tipoff is at 6:05 p.m.
Ryan can be reached on Twitter at @rskuhn