The Diva Kings bring waves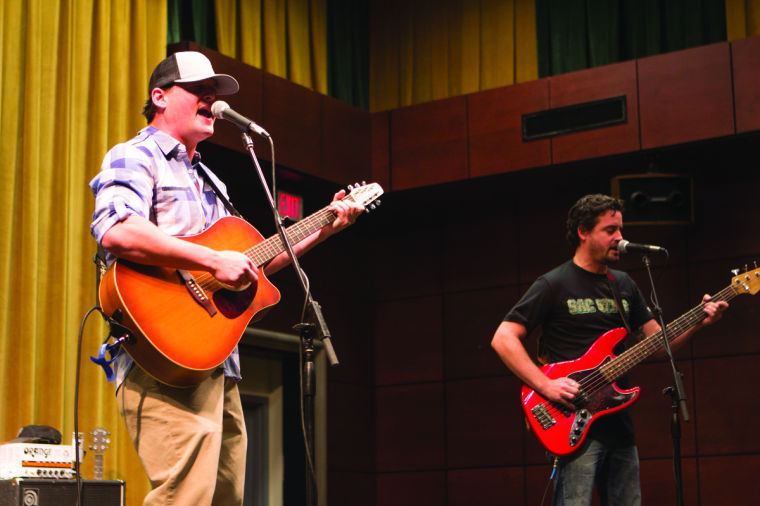 Sacramento State welcomed The Diva Kings and their embellishing rock rhythm to the Redwood Room inside the University Union last Wednesday.
Presented by UNIQUE Programs as part of the ongoing Wednesday Nooner series, students handed out free popcorn to other students during the hour-long free show.
Officially together for three years as a band, Christopher Twomey (vocals/guitar), Lucas Thompson (drums), Nathan Bisig (guitar) and Daniel Rau (vocals/guitar) have all been playing individually longer than some people have been licensed to drive.
Overall the Diva Kings sound like an all-American band whose influences come through in waves of blues, rock, and country and, more than anything, the singer-songwriter appeal with a pleasant band feel.
When asked about the origin of their double headed name, the band lets out little blurts of laughter.
"So there's a temple in Japan and it's protected by the Diva Kings and we have nothing to do with that," Rau said. "We like the ridiculousness and irony within the name; you have the masculine, the feminine, the ying and the yang, plus we're just goofballs and we think it's funny."
The name begins to make sense on the bimodal side of things, as the band transitions between Rau and Twomey on lead vocals.
Twomey says he likes to sing and harmonize, which they both execute well, but are distinguished by the styles in their voices.
"That's one of our strengths and possibly one of our weaknesses," Twomey said. "We have two different souls singing these songs; we just try to have as much fun on stage as we can and hopefully that cuts across all the 'meh i don't like his songs.'"
Chances are if you don't like one song, you're going to like the song that follows. There's an honest balance that gets overridden by the lyrics in the songs which are friendly, upbeat and a nice dose of romantic.
"A lot of our stuff has a romantic quality, but romance doesn't necessarily have to be physical romance," Rau said. "It's more of an emotion and conviction behind the songs and lyrics."
Like many good artists The Diva Kings want to connect with the audience every opportunity they can. It's something they keep in mind when putting together set lists right before shows and when they tell the stories in their lyrics.
Much the same as their two-of-a-kind vocal leads, Rau and Twomey share the duty of writing lyrics on their "Squeeze Me Sober" album that was released last year.
"Thankfully I haven't written anything that they haven't liked yet," Rau said with a laugh. "He [Twomey] has a lot more songs under his belt and I just had a bunch that needed to get out, so we allowed me to get a lot of songs on there, but it's a pretty good fifty-fifty mix."
The album's title is from a lyric in a song and the fact that some of the members drink a lot according to the band.
"Go to bed tipsy and wake up fresh, the way of the world," Rau carried on. "It's a romantic way of saying let's go have some cocktails and take me to bed or lose me forever."
They're currently in the process of writing their second album, which includes two songs they played at the Nooner. One new song had Rau singing in Spanish during an intro borrowed from the movie "Desperado."
"The muses are still working through us," Rau said.
As they've all grown up in the Sacramento region the band tends to play many shows in the area.
Twomey, Thompson and Bisig are in fact current students of Sac State. While Rau is now an alumus, he is very eager to point out that David Toise in the English Department was his favorite professor.
The Diva Kings have a show Friday, November 8 at the Boxing Donkey in Roseville.
They will also have a show in Sacramento at Marilyn's on K Street on November 29, the day after Thanksgiving.
For more information and links to purchase or listen to The Diva Kings visit http://thedivakings.com/ 
Cesar Alexander can be reached at cesaralexander@csus.edu